Total 11 AWS Certifications and Complete details of those certifications
If you look around, you can see that everybody is trying to acquire some cloud computing experience. It is the hottest trend in 2021, shaping the landscape of information and technology. To operate more effectively, every single organization, large or small, focuses on moving its applications together with legacy cloud systems. Thus, right now, cloud computing experts are in high demand.
In the Amazon Web Services (AWS) Cloud, many of the world's largest corporations now operate part or all of their computing environments, and more businesses move to AWS every day. AWS training and certification allow you to improve and test your abilities so that you can get more out of the internet. That's why gaining an AWS certification can be an excellent investment if you're looking for a new IT career, a unique role in your current company, or want to continue to develop in your current position.
What is AWS certification?
AWS calls for Amazon Web Services, which accumulates more than 100 cloud services that support businesses by giving them the power to compute databases, storage, and many other benefits that they can not afford as a business and maintain their protection.
Amazon Web Services is already miles ahead of the competition, presenting itself as the world leader in the cloud computing business. Certification of AWS cloud architects has become the most sought-after certification carried out by IT workers to obtain a better package for themselves.
Why is AWS certification necessary?
By validating their cloud knowledge with an industry-recognized credential, AWS Certification allows professionals to establish reputation and trust. It will enable eligible professionals to receive, according to their ability, the different forms of AWS certificate. For various IT professionals, such as Cloud Practitioner, Architect, Developer, and Operations roles, Amazon provides certification.
You also have 180 days after you pay, or 180 days after the course launches for the first time (whichever is longer), after spending the course certificate charge, to receive your certificate. Then your payment will expire after 180 days. When you take the course as part of a specialty or a degree (for-credit) program, the deadlines for obtaining course certificates could be different.
Benefits Of AWS Certificate
It helps to find trained cloud professionals for employers.
It helps you to exploit the mutual security liability model of AWS.
Enables you to collect the latest information about your domain.
Owning AWS certification opens the way for new possibilities.
Allows you to raise your self-esteem.
It lets you show integrity and devotion to your career path in cloud computing.
We have provided you with our extensive AWS Training Resources, which will guarantee your test's success.
Total AWS Certifications and Complete details of those certifications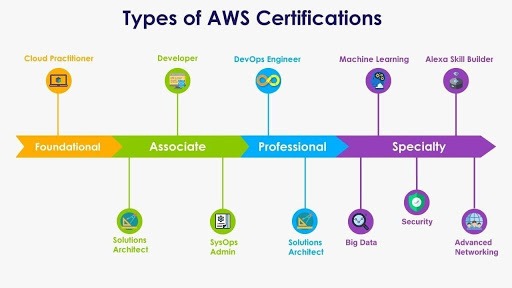 AWS offers 11 certifications in total. These certifications are classified in the cloud domain based on industry-based core job positions, namely:
DevOps Engineer
Cloud Architect
Cloud Developer
To obtain these role-based certifications, AWS provides different tests that must be clear. Some of these tests are compulsory, and some are not. Each exam is intended for some specific role and certification.
Foundational: Foundational examinations are not compulsory but are strongly recommended. These assessments are designed to assess the fundamental skills of cloud computing.
Professional: Professional-level tests complement one's cloud abilities but at a very advanced level.
Associate: To pass on to the next level, it is mandatory to clear the associate-level exams.
Specialty: Specialty tests are typically designed to test the skills necessary for a particular Big Data, Security, and Networking technology. Also, specialty examinations are optional.
As shown below, certifications listed under the categories mentioned above are:
Foundational Level:
AWS Certified Cloud Practitioner
Associate Levels:
AWS Certified Developer
AWS Certified SysOps Administrator
AWS Certified Solutions Architect
Professional Levels:
AWS Certified Solutions Architect
AWS Certified DevOps Engineer
Specialty:
AWS Certified Big Data
AWS Certified Advanced Networking
AWS Certified Security
AWS Certified Alexa Skill Builder
AWS Certified Machine Learning
Click here to know more about the 11 AWS Certification
For the 1st time in India Ethnus Codemithra providing AWS Architecting Online Course with NASSCOM future skill certification and 100% Placement Opportunity.
Also, check our latest blogs on AWS
3 Reasons to Start Career in AWS
Career Path to get AWS Certification