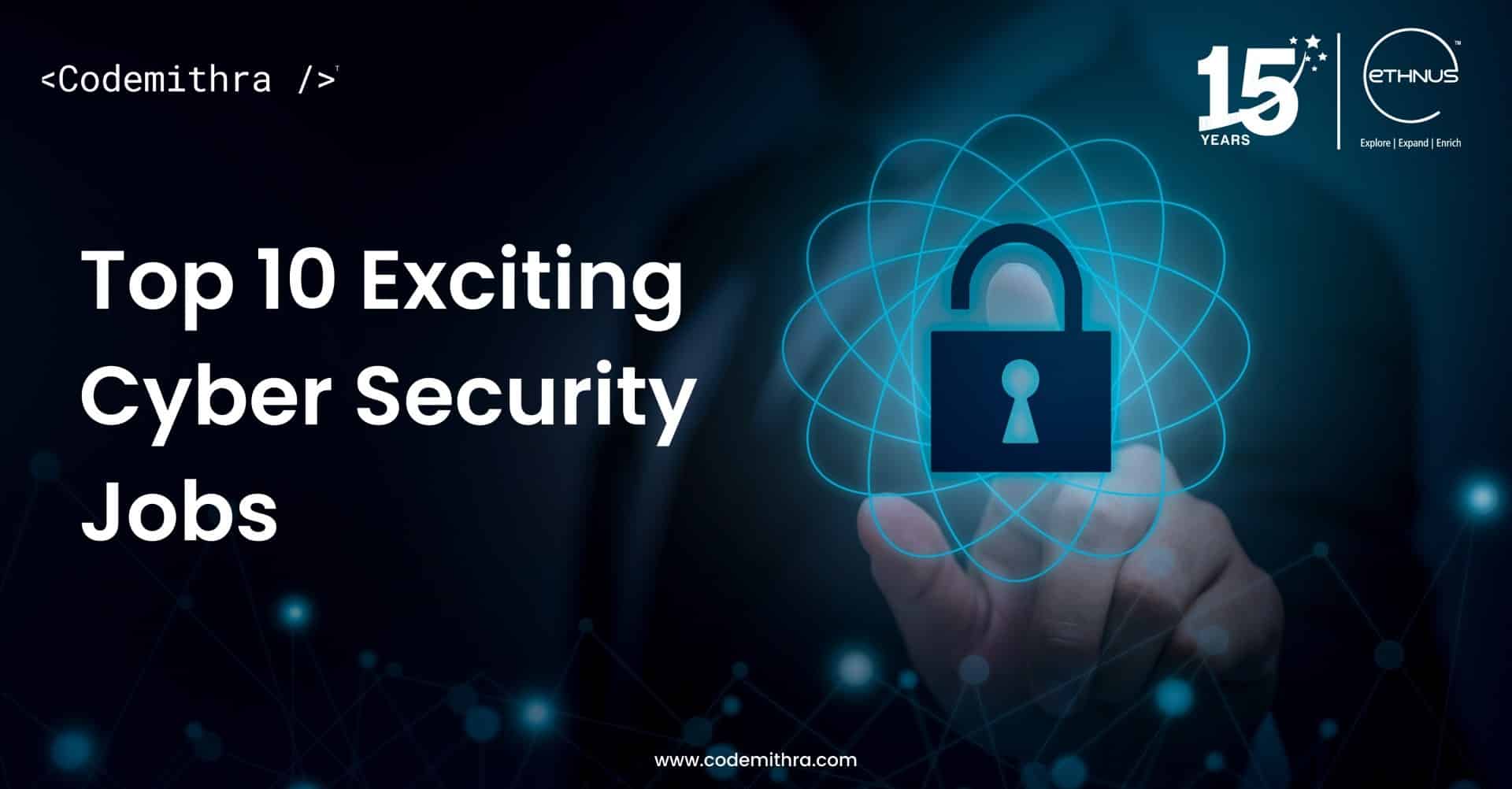 Introduction
To fill the new employment roles that have emerged in the cyber security sector, businesses are looking to hire people with a specialized set of skills and talents. The opportunity to work in a fast-paced setting where you can continuously learn and develop is another benefit of a career in cyber security. If you're interested in changing careers or already work in the Information Technology (IT) industry, cyber security is an excellent option to consider.
Cyber Security Job Options
1) Risk Assessor
Also known as "threat hunters," their job is to find attackers who have evaded real-time detection systems. These experts compare recent threat intelligence with the available evidence. Threat intelligence, network and system forensics, and investigative development procedures, are among the skill sets needed for threat hunting. By finding adversaries or their imprints based on emerging intelligence, this function transforms incident response from a strictly reactive investigation process to a proactive one.
Risk assessors proactively look for signs of attackers that were missed by more conventional detection techniques. They frequently uncover long-standing latent attackers in their investigations.
2) Digital Forensic Investigator
This position may be right for you if solving puzzles interests you. Investigators specializing in digital forensics take information from computers and other digital devices to find out how an unauthorized user gained access to a system or to gather proof for a court case.
Daily responsibilities could include: 
Obtaining, storing, and analyzing digital evidence

Data restoration from damaged hard drives

Keeping a record of the data retrieval process and maintaining the chain of custody

Assisting law enforcement with criminal investigations

Providing court testimony from an expert witness
3) Red Teamer
Your ability to approach issues and circumstances from the viewpoint of an attacker will be tested in this position. By putting the organization's detection and response policies, practices, and technologies to the test, the goal is to improve the Blue Team.
In this job, Red Teams simulate the operations of an enemy by using tactics, methods, and procedures (TTP) that are similar to those of a real adversary and aim to accomplish a specific goal. Additionally, it can entail developing unique implants and C2 frameworks to avoid discovery.
4) Security Engineer
The job of a cyber security engineer is to design and implement security solutions for networks to prevent hackers, cyberattacks, and other persistent threats. Their job also involves continuously testing and monitoring these systems, ensuring that all the defenses are up-to-date. Firewalls and intrusion detection systems are examples of possible components in these security systems. 
Your responsibilities might include:
Development and upkeep of security networks and systems

Creating budgets and managing security-related costs

Integrating IT and engineering departments' security operations

Enhancing systems in reaction to security breaches or flaws

Carrying out drills for security breaches
5) Technical Director 
These experts design technological strategies in collaboration with development teams, evaluate\ risk, set benchmarks and practices to measure success, and take part in building a solid team.
A technical director is essential to the efficient running of an organization. It is due to the various technologies that require more time and expertise to manage, the global shortage of cybersecurity talent, the unprecedented migration to the cloud, and the frequent escalation and complexity of legal and regulatory compliance.
6) Officer of Security Sensitivity
Security sensitivity officers collaborate with their security team to identify the greatest human hazards to their firm and the actions that reduce those risks. They are responsible for creating and overseeing a continuous program to train and communicate with staff to demonstrate these behaviors. Highly developed programs influence employee behavior and develop a strong security culture.
Today, human errors are the main causes of breaches, but the majority of organizations still view security from a technical standpoint. Your organization's ability to close that gap and address the human side will be greatly influenced by your role. It is one of the most significant and rapidly expanding areas of cyber security jobs today.
7) Application Pen Tester 
Using application penetration testing, penetration testers evaluate the attack surfaces of all web-based services, client applications, server processes, and other critical components within a company's scope. Application pen testers attempt to get past security measures by acting like hostile attackers to get confidential data or break into a company's internal systems using strategies like pivoting or lateral movement.
For executing company operations both internally and externally, web apps are essential. These programs frequently make use of open-source plugins, increasing their vulnerability to security breaches.
Preparing, creating, and performing penetration testing

Generating test findings reports and advising security decision-makers

Composing scripts to automate specific testing procedures

Practice social engineering (attempting to get company employees to disclose confidential information).

Providing technical assistance while addressing incidents
8) Cybersecurity Manager 
The primary responsibility of this job is to manage an organization's cyber security infrastructure. This role may incorporate the following:
Managing resources, both human and technological

Monitoring changes to the internal and external security policy

Ensuring adherence to security guidelines and requirements

Obtaining cyber security equipment for the company

Directing risk reduction initiatives
9) Media Exploitation Analyst
This specialist employs digital forensic techniques on a wide range of materials included in an inquiry. This may be the right path for you if you enjoy researching cyber crime and want to build a career out of recovering file systems that have been compromised, corrupted, or utilized illegally. In this role, you'll help with the forensic analysis of computers and media from many sources to provide forensically reliable evidence.
You are frequently the first person on the scene or to touch the evidence of a crime. Terrorism, counterintelligence, and law enforcement are a few examples. You are a crucial component of the investigation and the one who will be trusted to manage media exploitation from acquisition to final report.
10) Expert in Cloud Security
The day-to-day operations and cloud security are the responsibility of the cloud security analyst. This position provides technical expertise for organizational decision-making and assists in the design, integration, and testing of tools for security management. It also suggests configuration upgrades and evaluates the organization's overall cloud security posture.
This role assists an organization in carefully and securely positioning itself in a multi-cloud environment. This is important in today's business environment due to an extraordinary shift from traditional on-premise solutions to the cloud and a dearth of cloud security professionals.
The Best Way to Land a Career in Cyber Security
Despite the fact that each organization has its own unique needs for cyber security job positions, you could discover some common themes. Let's examine some of the prerequisites in more detail, along with how you might fulfill them to land your first cyber security position.
Educational Requirements
A Bachelor's degree in Computer Science, Information Technology, or a similar discipline is frequently listed as a qualification for security positions. Although employees in the cyber security sector frequently hold degrees, they are not always necessary. More than half of the 1,024 cyber security professionals surveyed by (ISC)2 in the US and Canada believed that cyber security education is "good to have" but not "essential."
In the poll, about 20% of people with under three years of experience only possessed an associate's or technical degree. In the cyber security job market, having a bachelor's or master's degree can frequently increase your chances of employment, make you a more competitive applicant, or help you grow in your career.
Certifications in Cyber Security
According to a cyber security study, at least, more than half of the jobs advertised in the field ask for at least one certification. There are more than 300 different certifications available with varying standards.
If you are new to cyber security, consider beginning with a more foundational certification, such as the CompTIA Security, certification. After that, you can start accumulating the work experience required to obtain more advanced certificates.
Cybersecurity Expertise in Demand
Having the right skills will help you secure a job because there are so many open cyber security job roles. Build your technical and workplace skills by enrolling in online courses, attending boot camps, or doing an independent study to prepare for a cyber security job. Start with the following abilities:
Cloud safety

Languages for programming, particularly scripting

Encryption

Risk evaluation

Detection of intrusions

Finding solutions

Rationality of thought
Finding Entry-Level Positions
More than half of the security experts interviewed began their careers in cybersecurity with an entry-level position in IT. Before taking on the extra responsibilities of a security role, you can establish yourself in a company and develop your technical skills by beginning as an IT support technician or network administrator.
When you're prepared to begin searching for cyber security jobs, go beyond the typical job sites (LinkedIn, Indeed, ZipRecruiter, etc.). There are a few websites that focus on posting jobs in technology and cyber security.
Conclusion
Training in this field gives you an advantage over employees in other sectors, where there is a growing need for cyber security professionals. Putting time and money into developing your cyber security skills is a smart choice considering how little unemployment there is in this industry. Ethnus offers online cyber security courses to help you learn about a variety of topics. Register for the best online cyber security courses with Ethnus Codemithra by clicking the link.
FAQs
Is it difficult to find a career in cyber security?


According to a Cyber Security Ventures report, the demand for cyber security specialists has been consistently high in recent years. As a result of a dearth of suitable applicants, there are still many cyber security job opportunities. For skilled cyber security job seekers, this is encouraging news because it suggests that finding employment in their area of expertise may not be as challenging.

What kinds of businesses are employing people for cyber security positions?
Any business that uses computer systems is concerned about cyber security. There are career prospects for cyber security specialists in various industries. The government is a significant employer of cyber security professionals.