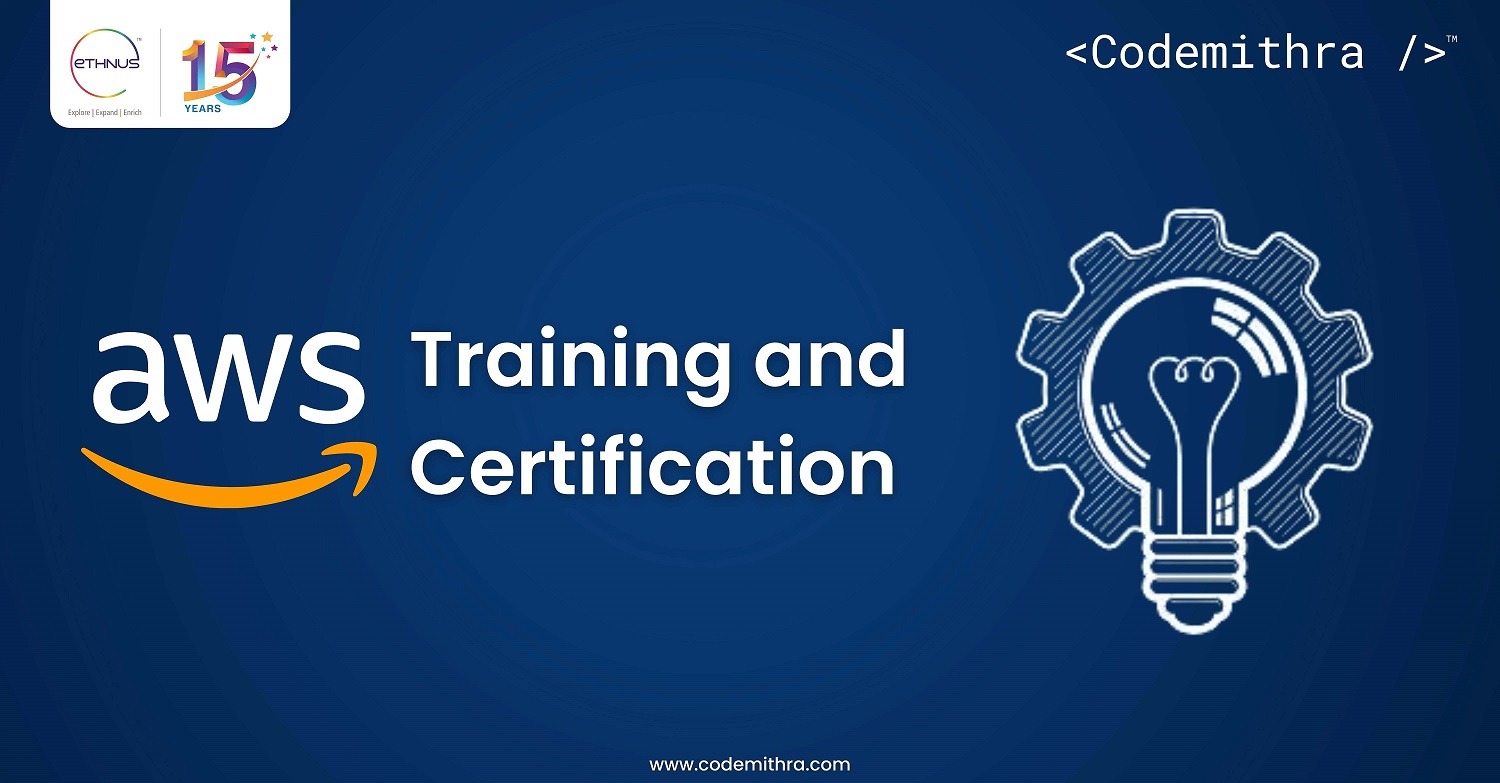 Introduction
Amazon Web Services (AWS) has been one of the industry's most complete and widely used cloud services, with over 200 feature-packed services available from large data centres worldwide. AWS is used by a diverse range of consumers, reducing costs, improving agility, and accelerating innovation. According to a recent poll, Amazon is the biggest cloud-based platform, accounting for 32% of the global cloud services industry. While AWS offers a wide range of services, determining your requirements can be difficult.
This blog will discuss AWS Certifications & whether you should obtain AWS Certification training.
What is AWS Training and Certification?
Amazon Web Services is a collection of over 200 web programs that enable businesses by allowing them to operate and secure their data, archives, and a variety of other services.
The Amazon Web Services (AWS) certificate is an industry-recognized certificate that validates an individual's abilities and knowledge regarding Amazon Web Services(AWS). There are three levels of AWS qualifications: associate, professional, and speciality. The associate level is for newcomers, the professional degree is for those with broader experience, and the specialist level is for individuals with extensive knowledge of certain AWS services.
The benefits of taking up AWS training and certification
Here are ten of the most significant advantages of pursuing AWS certification.
Preparing for the forthcoming :

The first benefit is the growing importance of cloud computing. According to recent estimates, around

83%

of corporate workloads will be transferred to the web by 2020, and Amazon has emerged as the industry leader in cloud providers. As a result, the advantages of AWS certifications may help you prepare for future advancements in the IT sector employment market.  AWS controls about

31%

of the market and is gradually increasing its revenue, and the majority of enterprises will rqeuire AWS expertise in the near future. As a result, an AWS certificate programme will help you exhibit your skills to hiring managers and increase your attractiveness as a job candidate.
New possibilities for professional advancement:

The advancement of professional experience is one of the top benefits of being AWS certified. AWS certifications necessitate substantial study, training, and attention to learning AWS technology. Concerns for renewal necessitate that applicants stay up to date on AWS trends. As a result, you'll need to exhibit your knowledge in order to earn the certification and maintain it. Above all, individuals may obtain additional AWS certification to broaden their present technological skills. AWS professionals are not required to stay in the same position. After passing the AWS Developer associate certificate, you can pursue the AWS DevOps certification.
Recognize your accomplishments:

The acknowledgement of certified experts is another important aspect of AWS certification advantages. Digital certificates are given to AWS-trained individuals. You may display these digitized certificates on social networks and in your email headers to show your certified success. These credentials give users immediate access to AWS-sponsored certified seminars. Restricted admission to AWS Summit events, including AWS Certification Lounges at "AWS re Invent", is also possible with these credentials. Additionally, with such an AWS qualification, you will be invited to local recognition gatherings. "Is AWS Certification Worth It?" may now be answered. With AWS certification, anyone can attract a lot of attention. A deep learning practitioner can, for instance, pursue the AWS Deep Learning certificate. In contrast, a data analyst should pursue the AWS Data & Analytics certificate to prove their abilities and further their career.
Showcase your degree of dedication AWS certification perks

can also be included in the confirmation of engagement. Candidates pursuing AWS certification typically devote a significant amount of time & effort to passing the examinations. On the other hand, applicants demonstrate their commitment to AWS infrastructure by opting for AWS credentials. As a result, an AWS accreditation demonstrates a professional's dedication to the AWS infrastructure. The road to AWS certification is not simple. Those who are competent in earning AWS accreditation should have put in a lot of effort. As a result, the certification indicates the dedication of qualified specialists. As a result, an AWS certification may serve as confirmation of your dedication and effort.
AWS certification is easier to acquire:

It is comparatively easier to acquire an AWS certificate than other qualifications. AWS credentials, which were originally issued in 2013, have come a long way toward making it easier for job aspirants to land a job. There are various resources available today to help you earn the necessary certification. AWS certifications can be obtained quickly by using documents, research papers, or instructional training classes. Other types of learning, such as digital and interactive training, provide you with hands-on experience with AWS' essential services. Applicants can easily access various example questions and practice tests when studying for an AWS certificate programme. As a result, many candidates would appreciate the flexibility of obtaining AWS certification!
A more lucrative salary

The compensation for AWS certification is the following advantage:

AWS accreditation

may increase a qualified professional's compensation by over 25%, as per recent projections from the experts of the Global Knowledge study. AWS professional staff can expect to earn an average of USD 113,932. Non-certified individuals, on the other hand, e

arn an average yearly income of USD 90,512

.

This demonstrates that AWS certification advantages may result in a sizable monthly income.
Possibilities to improve networking opportunities

: AWS certification validates qualified workers. Visiting the AWS Certified Professional Global Society is one of the essential AWS qualification benefits. Individuals that are AWS certified can communicate on the AWS LinkedIn Forum. One can discover ways to expand and increase their networking prospects in the industry. Attending meetings, seminars, and industry events has become easier with the AWS certificate course. As a result, you'll be able to connect with numerous people and expand your connections, which would otherwise be impossible.
Get more valuable projects:

If you are a freelancer, the benefits of having AWS credentials may mean more work for you! If a freelance developer has an AWS certification, clients will have more confidence in their capacity to function using AWS technologies.  AWS certification grants you access to digitized certificates.  As a result, you can use the digitized credential to demonstrate your credibility to clients and boost your earning potential.
The opportunity of becoming a Subject Matter Expert (SME):

The most crucial benefit of AWS qualification is the ability to qualify for the SME category. Trained experts can use AWS's Subject Matter Expert (SME) solution. Individuals can learn more about AWS resources and features by participating in the SME programme. Individuals can also participate in the test design process and other workshops as Subject Matter Experts. As a result, you can include a new certificate on your CV that shows your participation in a standardized certificate programme.
Employers are entitled to perks as well:

The final benefit of AWS accreditation is that it benefits potential employers as well. Businesses may benefit from AWS-certified personnel. The AWS Partnership is available to organizations that have AWS-certified specialists (APN). Companies may apply for one or more tiers of the APN programme based on their qualifications. As a result, firms may be able to attain the status of AWS partner with the help of AWS-certified individuals.
What are the different AWS certifications?
These professions include developers, architects, administrators, and others with specialties like big data, security, and networking. As a result, you may select the appropriate AWS certification for a particular profession and skill level.
AWS Certified Cloud Practitioner:

This certification validates one's knowledge in various key areas. For instance, how to describe the AWS cloud value proposition, recognize and explain basic AWS Cloud architectural principles and many more. This is basically for the entry-level.
AWS Certified Developer Associate:

This certification will upgrade one's skills in developing and maintaining AWS-based applications. This certification will help you better understand the basic AWS architecture and the core AWS services.
AWS Certification – Certified SysOps Administrator

To pass this certification requires both technical expertise and conceptual knowledge about the operational aspects of the AWS platform. This certification will provide an understanding of provisioning, managing, and securing systems in an AWS environment.
AWS Certified Solutions Architect – Associate:

The AWS Certified Solutions Architect Associate will provide you with a broad overview of the AWS network's capabilities. This qualification will teach you about communication networks and how they operate, how Amazon Web Services applications work; how clients interact with the AWS cloud, and how to develop safe and dependable applications on the AWS infrastructure.
Professional AWS Certified DevOps Engineer:

The focus of this qualification will be on SD (Sustained Deployment) and automation systems. This certification covers the fundamentals of contemporary SD techniques, SD application, and creating highly sustainable applications on AWS.
AWS Certified Solutions Architect Professional

This certificate qualifies a person to assess an organization's needs and give architecture and design suggestions for implementing and deploying apps on AWS. It will also teach you how to architect and create apps on AWS using best practices.
 AWS Certification – Certified Advanced Networking

This certificate verifies a person's ability to conduct difficult networking activities on AWS and at scale using hybrid IT connectivity and design. It is ideal for people who have experience architecting and executing infrastructure services and have an advanced understanding of AWS networking.
 AWS Certification – Security – Specialty

This certification is for those who want to understand security foundations, stay up to date on current and best practices, and understand essential AWS infrastructure services.This certificate verifies a person's understanding of security subjects such as information security, decryption, and security architecture, among others.
AWS Certified Machine Learning (Machine Learning Specialization)

This certificate verifies your ability to design, execute, and manage deep learning services for various business problems. With this certificate, you'll be able to identify and defend the right machine learning technique for any business problem.
Conclusions
AWS is the cloud server technology of the future. Along with Azure and Google Cloud, AWS is a well-known name in the cloud provider industry. We need to examine prospective chances for increased pay and new work opportunities. AWS accreditation also guarantees that individuals participate in the larger AWS ecosystem. AWS accreditation validates an AWS practitioner's credentials and allows them to broaden their networking opportunities. In addition to these benefits, AWS accreditation enables continuing education and career growth through the criteria for renewal. Join Ethnus Codemithra's four-week comprehensive training program on AWS to give yourself a better shot at cracking the AWS Solutions Architect Associate examinations.