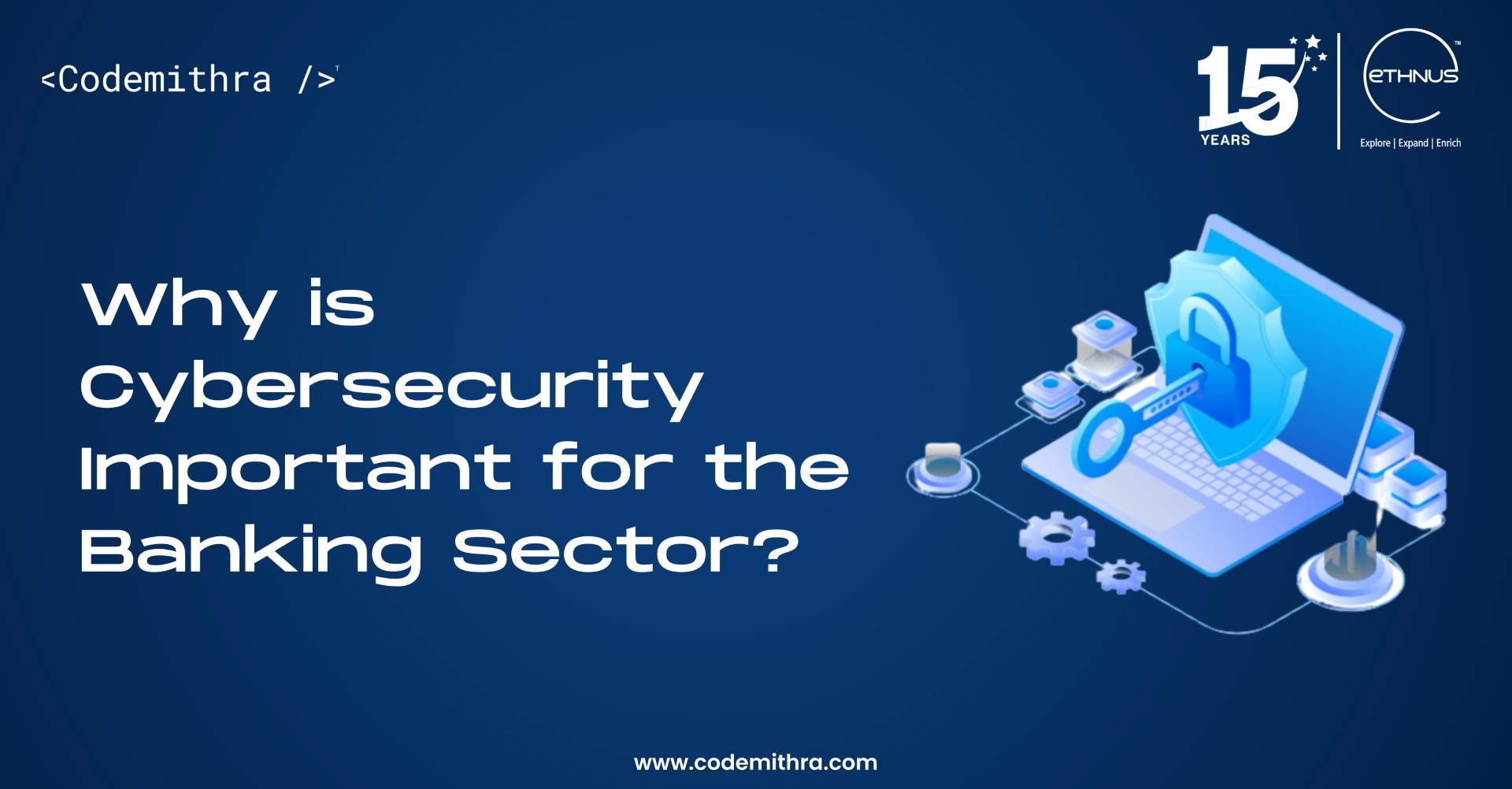 Introduction
Cybersecurity is the practice of protecting networks, computers, mobile devices, and electronic data from unauthorized access or criminal use to ensure confidentiality, integrity, and availability of the information.
It is also called Information Technology (IT) security or electronic information security. Implementing effective cybersecurity measures is difficult because of the sheer number of devices connected to the internet and the ingenuity of Cyber attackers.
Importance of Cybersecurity In the Banking Sector
The banking sector has been under attack for years. It was physical theft before, and now the crime has gone digital. The global cyber threat continues to grow rapidly with the wave of digitalization. Cyber attacks can ruin a bank's relationship with its customers and even place them in legal danger because they store sensitive information and funds for thousands of people. 
The reasons the banking sector must invest in cyber security are:
Protecting Customer Data is Vital.
Banking and financial institutions carry huge amounts of sensitive information about their customers. If that information falls into the wrong hands, it can lead to identity theft, fraudulent transactions, and illegal activities. Cybercriminals can sell the information on the black market to be used in further hacking schemes. Banks need to invest in good cyber security solutions to ensure they provide the maximum amount of protection to customers' data. 
When a banking institution is under cyber attack, it suffers from financial and mental exhaustion. The costs to recover stolen data aggravate the issue. Deploying emergency actions like closing down the servers for a prolonged period causes difficulties for the bank and the customers who can't use their money.  
Customers can lose a lot of time in case of a data breach as a banking server may have to shut its operations to prevent data from being stolen. However, this downtime can be a time of great anxiety and inconvenience to the customer, eroding the trust of the customer in the bank. 
Saving Customers' Efforts
A cyberattack can be stressful, as customers must constantly monitor their bank statements for any fraudulent activity and cancel credit and debit cards in case their bank details get leaked. A banking institution can avoid the situation of data recovery by investing in cybersecurity solutions.
Data Breach can Impact a Bank's Reputation.
A breach in the banks' servers can lead to panic and insecurity among consumers, which erodes public trust and is difficult to recover. A banking institution with reasonable cyber security projects confidence. The bank can communicate the measures in place to protect customers' data and financial assets. This increases the client's faith in the bank and prefers to deposit larger sums of money. 
Avoid Penalties for Non-compliance
Banks can face huge penalties for non-compliance with rules and regulations in place for customer protection. Being compliant requires the banks to focus on cyber security, and this ensures the data protection of consumers.
There is a wave of digitalization in every sector, from food delivery, grocery shopping, and purchasing movie tickets to education. It is highly critical for banks to upgrade their infrastructure, as every transaction provides an opportunity for hackers to steal valuable customer data and prevent massive losses for the banks.
Rise of Mobile Applications
Cybersecurity threats are on the rise as more people use mobile applications to access their bank accounts. As a result, the scale of a cyberattack is significantly increased. With few security procedures present in mobile applications, the bank must protect itself from hackers.
Breaches at Third-party Organizations
Third-party network breaches can lead to the circulation of confidential customer data, which hackers can use to carry out raids as banks and consumers grow more digitally intertwined. Hackers can easily access the banking network if a cybersecurity plan does not adequately protect these systems.
Protect Bank's Digital Resources and Assets
Banks use automation tools and computer software to maintain their operations. These digital assets are vulnerable to cyber-attacks because they are connected to the internet. Proper cyber security services and protocols must be used to prevent any disruption in the normal functioning of these resources.
Types of Cyber-threats
Cyber security deals with distinct threats, like:
Also called computer crime, they use computers to perform illegal activities like committing fraud, stealing intellectual property, or violating privacy. It usually involves single actors or groups targeting servers for quick financial gain. Cybercrime has grown in importance as computers have become crucial to the functioning of a bank.
It is a coordinated attack on a specific entity from any location to gain unauthorized access, steal data or damage the network systems of the organizations. Large groups perform it to affect the operations or prevent a significant development.
It involves attacking computer networks at a much larger scale to ensure a large chunk of data is lost. Hackers use viruses, spyware, malware, ransomware, phishing, programming language scripts, and other software for their purposes. It is intended to undermine electronic systems to instill hysteria or panic.
Categories of Cybersecurity 
It is a set of rules and configurations designed to protect computer networks and data integrity and confidentiality using hardware and software technologies. This helps secure a computer network from all potential attacks, whether harmful viruses or opportunistic hackers. There are many network security management tools available, and the role of a cybersecurity expert is to work out a specific strategy for each banking company to safeguard its interests. 
It focuses on keeping all the software and applications in the bank free from any threats by using different tools and processes. Any breach in the application can leak sensitive information stored and provide access to data to harmful elements. Application security can protect all the internal and external stakeholders of the company, including customers, business partners, and employees.
It is the practice of preventing unauthorized access, use, disclosure, modification, recording, and destruction of information. Information security is built to achieve data confidentiality, integrity, and privacy, ranging from the customer's credit card information to account balance. 
Also known as procedural security. It is a risk management process that allows banking institutions to watch operations from the attacker's view and understand the vulnerabilities present in the current systems. This is necessary to prevent sensitive information from falling into the wrong hands. It allows a bank to create and implement security plans to eliminate threats, mitigate risks, and protect data assets. 
It is the method of regaining access to information lost during a cyberattack, natural disaster, or  any human error. Disaster recovery depends on replicating data and computer processes on a server far away from the bank's location. It includes information like bank account details of customers, locker details, and other sensitive information. This will showcase the bank's ability to quickly bounce back from a cyberattack and provide uninterrupted services to the customers.
It is one of the most inexpensive methods to protect a network from cyber challenges. Educating the employees on cyber security through various seminars can decrease the risk of losing sensitive information because of mistakes and enhance the network's security. Teaching users to delete suspicious attachments and backing up their data regularly is vital for ensuring maximum security for an organization.
The Role of Cybersecurity Experts in the Banking Sector
Cybersecurity experts are the watchdogs of the digital age. They play a prominent role in maintaining the security and data of information systems. They create and implement security audits for both computer hardware and software to protect the systems from cybersecurity risks, threats, and vulnerabilities.
Security specialists are also responsible for ensuring all the employees are up-to-date with the latest security practices by taking the role of an advisor or a trainer. They also design firewalls and other measures to safeguard the organization's networks with the latest security standards.
Conclusion
With the rise in cyberattacks because of rapid digitalization, cybersecurity job opportunities are predicted to grow the fastest among all the other professions, highlighting the increasing need for cybersecurity solutions across all fields and levels. Learn about a variety of topics and enhance your skills with Ethnus' online cybersecurity courses. For the best cyber security courses online, click on the link to register with Ethnus Codemithra.
Frequently Asked Questions (FAQs)
1) How can I get a Cyber-Security job?
The first step toward getting a cybersecurity job is familiarizing yourself with Information Technology(IT). This can be achieved by obtaining a computer science degree, cyber security, or information systems. After completing basic education in IT, you can pursue specialized courses in cybersecurity to offer greater utility to the employer.
2) What are the jobs available in cybersecurity?
Hundreds of jobs are available in National Defence to Private companies. A cyber security expert can provide their services to any domain due to the rapid digitization of business processes.
3) Is cyber security a good career choice? 
The answer is a resounding yes. Cybersecurity is an excellent career field to pursue for any individual. It provides good pay, a work culture, and the ability to help protect organizations in this digital era. It is one of the fastest-growing industries of the 21st century, so there are ample opportunities available for cybersecurity experts.