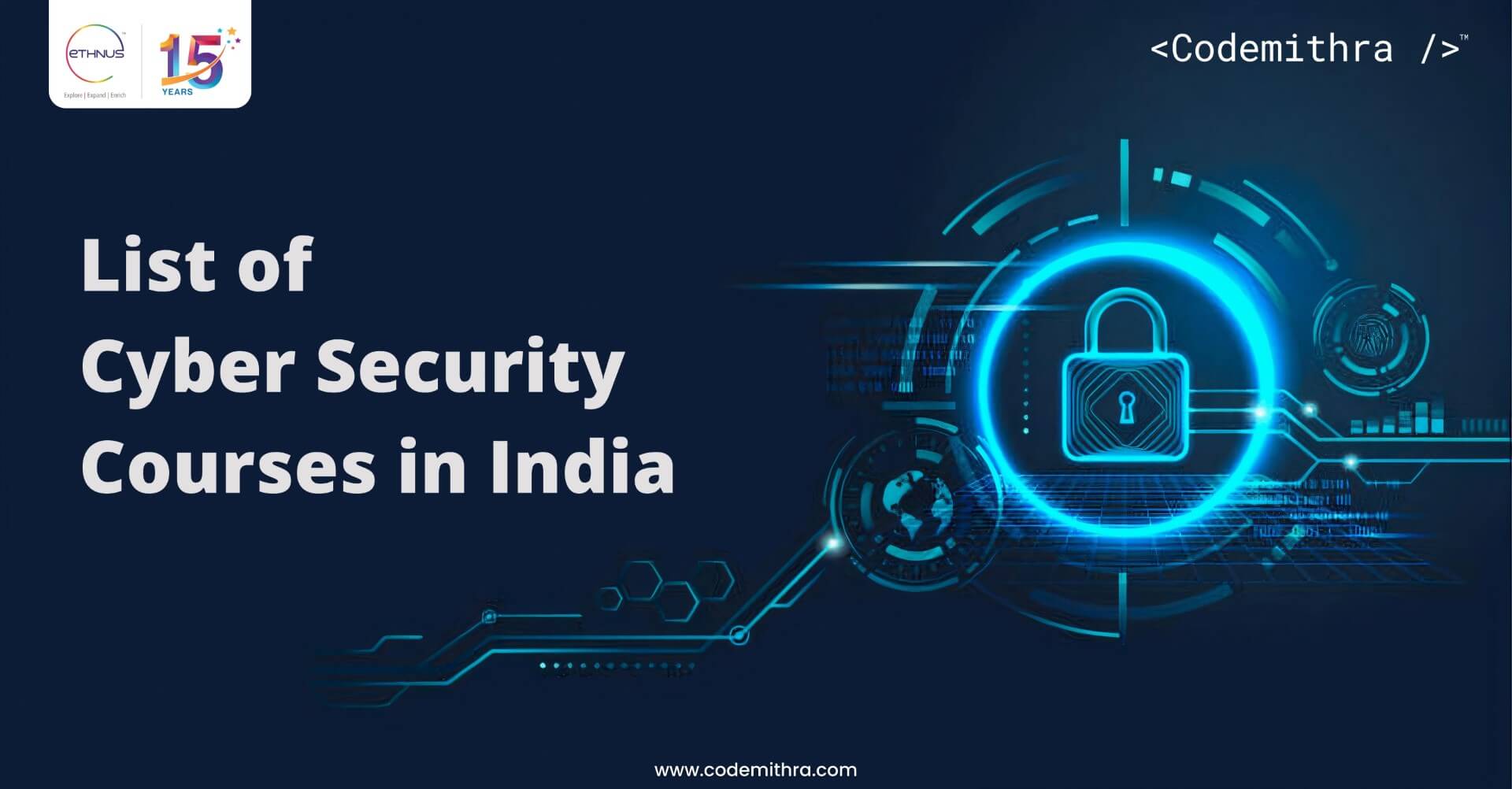 Introduction
The digital world is fast becoming the new normal with connected devices and the Internet of Things, thus opening up new opportunities in cyber security. Organizations are now more vulnerable than ever to cyber threats, which can have disastrous effects on their business. These challenges demand skilled professionals defend networks from these threats. The demand for cybersecurity professionals will likely grow significantly over the next few years. 
Hence, it makes sense to explore the option of pursuing a career in this field. In this blog post, we list some of the top universities offering cybersecurity courses in India that you can consider for your higher education. These institutions offer not only undergraduate degrees but also various postgraduate programs besides master's degrees and doctorate programs in related fields like Information Security Management, Information Security Auditing, and Network Security Management. 
Students who choose to study Cyber Security at a: 
National Institute of Electronics and Information Technology (NIELIT) – Srinagar

NSHM Knowledge Campus – Kolkata

SAGE University (SU) – Indore

Calicut University – Calicut

Praxis Business School (PBS) – Kolkata

Karunya Institute of Technology and Sciences (KITS) – Coimbatore

Bombay Stock Exchange (BSE) Institute, Mumbai

Lovely Professional University (LPU) – Jalandhar
These institutions will learn about various techniques for protecting data and information systems, and many institutes provide cybersecurity scholarship programs in India. Students will gain practical knowledge about database applications, system administration, and data recovery, as well as business and technical skills such as database management. As a result, they will be able to comprehend IT security from all angles. 
1. The Edureka Cybersecurity Certification Course is the right path for budding cybersecurity professionals
Edureka is an e-learning firm that delivers instructor-led training in advanced technologies such as artificial intelligence, data science, big data, cloud computing, blockchain, and cybersecurity. They deliver short-term courses supported by online resources as well as 24-hour live assistance. Edureka stays devoted to helping working professionals keep up with changing technologies. With a learner community of 750,000 in 100 countries, Edureka's objective is to make learning simple, enjoyable, affordable, and accessible to millions of learners worldwide.
This cyber security training will guide you through the fundamentals of cryptography, computer networks, application security, data and endpoint security, IDAM (Identity and Access Management), cloud security, cyber-attacks, and other important security fundamentals for businesses. This course covers a wide range of foundational cybersecurity topics in addition to ethical hacking, audit, and compliance to prepare future professionals for different career choices. 
2. HackerU's Master Certificate in Cyber Security (Red Team) is the finest course for hackers.
HackerU's Master Certificate in Cyber Security (Red Team) is the finest course for hackers. The one-of-a-kind program gives you the skills and knowledge to successfully tackle the most challenging cyber security challenges. You'll learn how to assess a target organization's vulnerability and conduct an effective red team assessment. You'll learn how to carry out complex attacks, understand their impact on businesses, and improve your capabilities in real-world situations. HackerU's Master Certificate in Cyber Security is hands-on, with simulations and exercises geared towards building cybersecurity expertise. 
The program also includes a master's exam covering all aspects of what you learned during the course. Upon completing the course, you'll also receive a certified master's certificate attesting to your skills. The Master Certificate in Cyber Security (Red Team) of HackerU, a program of HackerU, is administered by Jigsaw Academy. 
Including Taxes, the Master Certificate in Cyber Security training from Jigsaw Academy (Bengaluru) is ₹2,80,000. It is the only course in India on offensive technology. The program is intensive in delivery and extensive in technology coverage and is delivered in collaboration with HackerU, Israel's premier cybersecurity training institution. 
The course focuses on Red Team techniques, including penetration testing, vulnerability scanning, exploitation, and red team tactics. This course is taught by a group of dedicated professionals with years of experience in cybersecurity and hacking. Students will get hands-on experience with real-world scenarios that can be used to help keep networks safe. This certificate is the perfect tool for those who want to learn more about cyber security and hacking. It's also great for those who want to work in the field or aren't sure if they want to become a hacker or not. If you want to learn about hacking and cyber security, this is the best option!
3. Simplilearn Certified Ethical Hacker and Certified Information System Security Professional
The Simplilearn Certified Ethical Hacker and Certified Information Systems Security Professional (CISSP) programs are designed to prepare you for an IT career. As an ethical hacker, your main goal is to test the security of websites and applications to find vulnerabilities. As a CISSP, you will learn how to build secure networks and identify security threats that could put your organization at risk.
Simplilearn's Certified Ethical Hacker and Certified Information Systems Security Professional programs are ideal for both experienced IT professionals looking to advance their careers and also for those who are just starting.
 Simplilearn has helped more than one million professionals and 1,000 companies globally achieve their business and career goals by providing online cybersecurity training across a wide range of digital technologies and applications. Industry-recognized IT training centres have rated Simplilearn as one of the top 20 IT training companies for 2017-2019. Bengaluru, Hyderabad, Pune, Mumbai, Noida, Gurugram, the US, and Singapore are the cities in which the Simplilearn program is operated.
You gain a sophisticated security skill set by taking the EC-Council Certified Ethical Hacker course. Many organizations require CEH certification as a prerequisite for security tasks, and information security workers are in high demand. This certification gives students the knowledge and techniques necessary to crack into any computer system. A "hacker mentality" is what we teach in this course so that they can defend against future attacks. It offers a hands-on training environment in which we apply a systematic ethical hacking process. Ethical hacking covers five phases: reconnaissance, gaining access, enumerating, maintaining access, and covering one's tracks. CISSP certification training is aligned with the (ISC)² CBK's latest requirements.
4. A practical approach to PGP in cybersecurity from Praxis Business School
Praxis Business School is committed to contributing to the development of a large pool of resources that understand the relationship between data, technology, and business. The two-year AICTE-approved PGDM program is also offered in data science and cybersecurity. We are also launching a nine-month full-time program in data engineering. A nine-month PGP in data engineering is offered at Praxis. Faculty members at Praxis have a distinguished academic pedigree and extensive industry experience in developing powerful programs. The industry has well-received Praxis programs, and data science has consistently been rated among the nation's best three programs.
The program helps students become industry-ready cyber warriors by addressing the three dimensions of the cybersecurity ecosystem—people, procedures, and technology, in particular, governance and compliance. The program includes 525 hours of lectures, lab work, and case studies. It is divided into three trimesters and focuses on SOC analysis, digital forensics, security incident handling, and information cyber audit. Senior practitioners provide on-ground training, and participants get hands-on experience in the state-of-the-art cybersecurity lab. BSI and CISCO provide additional certification after completion of the program. The Praxis Placement program, which manages the participant's transition to a promising career, is offered as an added certification.
5. Stanford Security Program for High-Performance Computing from Great Learning
The programs offered by Great Learning are high-quality, impactful, and industry-relevant learning programs for working professionals. They help learners master 'hard' competencies such as business analytics, data science, big data, machine learning, artificial intelligence, cloud computing, cybersecurity, digital marketing, and digital business. Since 2011, Great Learning's analytics programs have been ranked 1 in India, and its professional learning programs have provided over 6 million hours of impactful learning to over 10,000 learners.
This advanced computer security program is taught by Stanford University Computer Science and Engineering faculty members and is developed by Stanford. It includes all the important aspects of cybersecurity from a practitioner's perspective. 
Some of the key advantages include:  
A Stanford Engineering Certificate of Achievement

Mentoring from distinguished cybersecurity practitioners

Hands-on practice through a series of labs and projects helps participants put what they've learned into practice
This program seeks to prepare future system architects for security concepts and strategies.  It includes web application security, network security, mobile security, cryptography, writing secure code, and other emerging concerns and protection.
6. Post-Graduate program in Cybersecurity – IIDT
The Post-Graduate Program in Cybersecurity, or PGP-Cyber, is a 5-year program that aims to produce highly employable graduates with the skills required to work in cybersecurity.
The program is taught by experts from the Ministry of Communications, Information Technology and Security (MCITS) and the Cybersecurity Center of Excellence (CSE).
The PGP-Cyber program is one of Asia's most highly regarded postgraduate training programs for cybersecurity professionals. It was launched in 2011 as a joint effort between MCITS and CSE to assist professionals who wish to work in this field.
The final year focuses on a research project under the supervision of an expert adviser. The research project will be presented at an international conference organized by the Ministry of Communications, Information Technology and Security (MCITS). Graduates are also eligible for an internship with a local or foreign company after they complete the program.
The PGP-Cyber program provides students with a solid foundation of knowledge of cybersecurity concepts, practices, and principles. Students gain hands-on experience through practical training.
The global mentor network is used to increase students' industry exposure. IIDT is collaborating with the Government of Andhra Pradesh to deliver a full-time postgraduate program in cybersecurity at the Gujarat Forensic Sciences University (GFSU). GFSU, having been in operation for six years, has developed the curriculum, delivered the program, and teamed up with IIDT for placement. IIDT is establishing a Cyber Range Lab in addition to three Centers of Excellence (COE). CISCO, Kii Corporation, and T4U are also partnering with it to do so.
Conclusion
The demand for cyber security professionals is expected to increase significantly in the coming years, and this is due to the increasing threats posed by hackers. As more and more organizations come under cyber attack, the need for professionals who can prevent such attacks will only increase. Cybersecurity is a growing field that offers many career opportunities. A cyber security course is also one of the best ways to boost your career growth and also protect against potential cyber threats. You can pursue a career in this field by choosing one of the top cybersecurity courses offered by top universities in India.  We have compiled a list of universities offering cyber security courses in India, from where you can choose the best course for yourself. 
It's worth mentioning that Ethnus provides scholarship programs for students interested in Cyber Security Program. Here's the link to the scholarship application for you to check out.