Surprising Ways in which AWS makes our lives easier!
In the last decade, cloud computing has become tremendously popular for its agility, flexibility, and ease of use. One of the world's broadly used loud platforms is Amazon Web Services (AWS). Adopted by most startups, government organizations, and multinational corporations, today, AWS has the highest market share in the cloud computing industry. AWS is not any ordinary cloud provider. Along with data storage, AWS also provides other sophisticated services such as machine learning, data analytics, and artificial intelligence. It does all this while ensuring unparalleled security. Its use isn't limited to a business environment. Indeed, we use AWS in our daily lives too!
How does AWS help us in our daily lives?
The power of cloud computing lies in its ability to integrate different functions and objectives. Believe it or not, AWS is exceedingly used in the gaming world! Gaming applications require significant computing power to run smoothly. AWS is integrated into the global gaming network and ensures that gamers have the best gaming experience possible. Online shopping and social media have taken the world by storm in recent times. Well, AWS has a crucial role to play in a seamless user experience. This is because AWS assists in the launch and scaling of e-commerce applications, websites, and other mobile applications. A perfect example of AWS and its multiple uses can be seen in London, where people rely on AWS even for simple tasks such as home-heating, daily commutes, and banking. AWS can be integrated into transport apps that help Londoners plan their daily commute. While AWS already plays a crucial role in our lives, it's capable of doing much more!
What does the future of AWS look like?
It has been predicted that AWS will soon become synonymous with 'cloud-computing' like google has become synonymous with 'search'. Interest in AWS has exponentially grown in the last 5 years.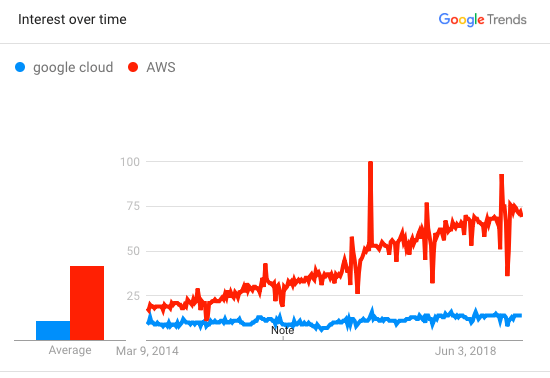 AWS is consistently entering new markets such as game development, security, and application services. With a large R&D budget of $36 billion (2019), AWS can be expected to further improve their existing services making cloud computing streamlined and convenient. Governments could integrate AWS in the provision of public services and for a common man, AWS can make life 10 times easier by aiding the storage and access of data.
How to start a career in AWS?
AWS is undoubtedly high in demand today. This makes AWS professionals high in demand too. The average salary of an AWS professional is around INR 5-7 lakhs per annum. However, there are some prerequisites to fulfill. To become an AWS user, you need to complete the AWS certification. The AWS certification course is a comprehensive course that teaches skills such as AWS management, AWS design, and AWS security. Ethnus Codemithra provides an all-inclusive AWS Architecting course for AWS certification. With live training sessions, frequent assessments, and direct access to courseware,Ethnus Codemithra is the training destination for you!
For the 1st time in India Ethnus Codemithra providing AWS Architecting Online Course with NASSCOM future skill certification and 100% Placement Opportunity.