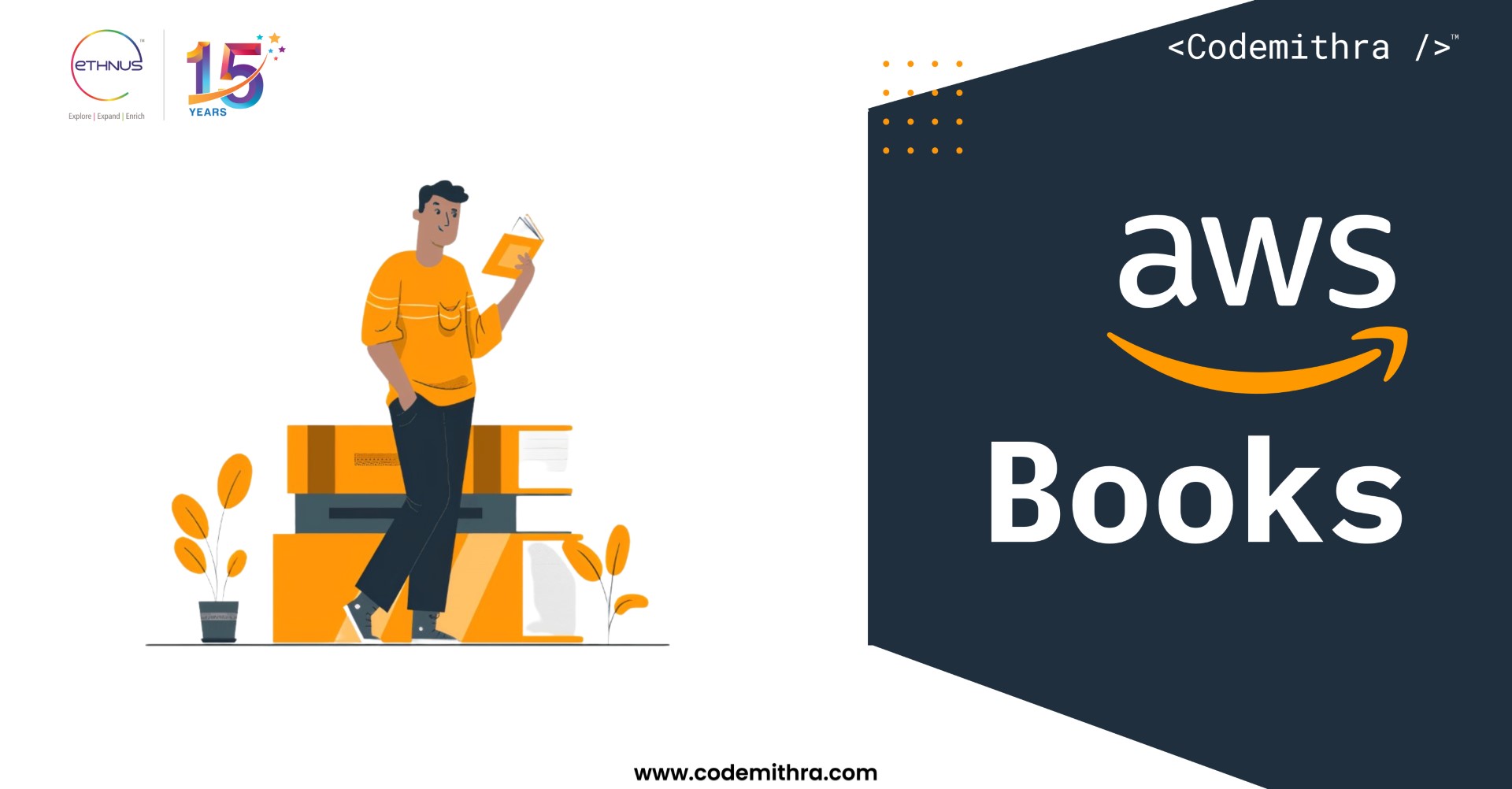 Introduction
Having the right guidance to launch a successful career in AWS is a necessity. You need the right books, strategies, and mentors to get the AWS certification.
If you have AWS certification, you possess the most in-demand skills. These skills are profitable for your career, and having the certificate validates a level of cloud expertise that helps speed up time to value for cloud projects.
Amazon Web Service or AWS, a popular cloud computing platform, offers over 100 service centers. It provides computing power, IoT, content delivery, and many other features. It is best to follow the traditional way of learning via books. To clear the AWS exam, you must look for the best books to earn certification. This article will guide you in choosing the right books to certify your AWS skills. 
Now, before getting started with the perfect book to help you get AWS certification, let us first briefly describe AWS and why you need an AWS certification. 
What is AWS?
Amazon Web Services or AWS is the world's most popular and broadly adopted cloud platform. In 2002, AWS, or Amazon Web Service, launched its services for the first time. Many startups, enterprises, and government agencies are using this comprehensive way to lower costs. AWS promotes innovation. With an emphasis on hands-on experience, AWS certification evaluates its candidate's skills. The certification provides candidates with best practices. 
With the help of best practices, the certification is known for its thoroughness. An AWS certification can provide the foundational knowledge and skills you'll need to boost your career. But if you are someone who has already worked with AWS, then preparing for the certificate will strengthen your knowledge. 
Organizations constantly search for new recruiters and having an AWS certification can increase your chances of getting your dream job. The certificate proves that the candidate is familiar with and has the basic knowledge of AWS utilized in cloud architecture, management, and security. 
Various fields using AWS
AWS's cloud computing services include EC2 (Elastic Compute Cloud), LightSail, Elastic beanstalk, AWS Lambda, and EKS. Many prestigious companies use AWS, such as Pinterest, Instagram, Netflix, and Dropbox.
Its applications are truly unlimited, and things are about to heat up soon.
Various applications that use AWS are: 
application hosting, 

website hosting, 

media sharing, 

search engines, 

storage, backup, and disaster recovery, 

social networking, 

mobile applications. 
Advantages of Amazon Web Services 
AWS services help businesses to reach marketplaces with little investment. Offering everything essential with the utmost security standards is what AWS is all about. The advantages of AWS services are:
AWS offers security tools that safely keep the stored data in the public cloud. The tools are much cheaper, and AWS is the safest, most comprehensive, and most reliable platform.
With more than 50 available zones, AWS is globally available in 25 geographic regions. 
Scalability and Flexibility: 
The flexibility offered by AWS services allows the organization to plan its strategy without total commitment. 
AWS cloud services are a blessing to companies helping save the extra amount spent on hardware and software. 
All these factors compel enterprises to prefer AWS cloud services over other platforms.
Why do you need an AWS certification?
Millions of customers rely on AWS for its brilliant products and high-quality services. With many multi-cloud strategies popping up now and then, AWS has successfully kept its place. Enterprises trust AWS for its outstanding services. More than one million happy customers of AWS are proof that AWS is here to stay. The cloud world is thriving in wooing many organizations with the products and services offered. 
With many organizations switching to the cloud or considering migrating, it is the right time to get AWS certified. Adding the certificate to your portfolio can be a real asset. An industry-recognized credential helps build credibility and confidence. Organizations identify professionals that can use AWS to lead cloud initiatives. 
Best Books to Prepare for the AWS exam
Books are the most crucial element for any exam preparation and can assist and guide you in preparing for AWS certification. AWS is a vast topic that can get a bit overwhelming if you need proper guidance. Whether a beginner or a professional with basic knowledge of AWS and its working, you will need appropriate advice to thrive in your AWS exam. This way, you will be ready for your AWS training.
However, if you are a beginner, you are only required to learn a few core services. You can make the process easier with a lot of practice and focusing on essential areas like EC2, S3, and IAM.
Nonetheless, we have assembled the best books that will assist you in the preparation. Read on to learn top AWS books for beginners to advance levels.
AWS Certified Solutions Architect Official Study Guide
This book will help you expand your career with fully prepared, high-quality content. Through this book, you can validate your skills in the AWS cloud with the help of expert content and real-world knowledge. The book has chapter review questions and key exam essentials in a very comprehensive way. Written by AWS experts, the book covers areas that can help you prepare better for your AWS exam. The book also covers exam concepts and provides key reviews to its candidates.
 Amazon Web Services in Action by Andreas Wittig and Michael Wittig
 One of the best books in the market for beginners, Amazon Web Services in Action covers cloud computing in the most general and comprehensive way. After explaining the basics of cloud computing, the book moves into the AWS area in detail. It also introduces you to storing and networking. However, this is to be kept in mind that the book is not for experienced AWS users. 
Learning AWS – Design, Build, and Deploy Responsive Applications using AWS Cloud Components: by Aurobindo Sarkar and Amit Shah
The book's main focus is to give insight into the basic concepts of cloud-based development. It is a comprehensive guide to getting its candidate the most out of AWS. The book covers areas like AWS concepts and the process of setting up your AWS account and operating it. The book also covers topics like cloud computing with S3 storage, RDS, and EC2. The book will help you accelerate the development process for your career in AWS.
 AWS Web Services for Dummies: A Wiley Brand by Bernard Golden
The abovementioned book is the right book for a newbie in the AWS world. You can learn from scratch, and it takes you in-depth. Some sections are basic and skippable for someone who knows AWS products, and the language is comprehensive.
 AWS Basics: Beginners Guide by Gordon Wong
The book covers lessons, namely, what is Amazon Elastic Compute Cloud, Account Setup in Amazon EC2, Deployment of MEAN App to the Amazon EC2, and Running Tableau Server on EC2 Instances. The book guides you through topics in-depth, and you will also learn how to create an AWS account.  
AWS Certified Solutions Architect Associate All-in-One Exam Guide by Joyjeet Banerjee
This book details the skill sets required for passing the AWS exam. Each chapter starts with learning objectives, exam tips, practice questions, and in-depth explanations. You can use the book as an essential on-the-job reference to help you succeed.
AWS Certified Advanced Networking Official Study Guide
This book covers topics under cloud-based solutions, such as the design, implementation, and deployment of cloud-based solutions. To ease learning for the candidates, it contains a glossary, chapter tests, practice exams, and practice tests that will help you track your progress. These tests will make you ready for your exam day.
Mastering AWS cost optimization
This book will help you better understand the technical and operational aspects of the process. These techniques will help you cost-effectively build innovative products. The book contains techniques and practices implemented to reduce the costs of our cloud infrastructure and that of our customers.
You can also add some more books to your list if you are diving deep into the vast ocean of AWS. AWS Automation Cookbook, Mastering AWS cost optimization, and Cloud Computing Solutions Architect: A Hands-On Approach are advanced-level books. 
Conclusion
With so many services provided by Amazon, getting intimidated is understandable. The books listed above will help you crack the AWS exam. Whether you are an experienced candidate or finding your way to break into this industry, these books will guide you to acquiring AWS certification. To prepare better for the exam, you can always take mock tests available at various sites, increasing your knowledge and technical skills. To excel in this exciting industry, you must stay focused. Ethnus Codemithra's
AWS Architecting course
can help you get AWS certified and thus help you in your recruitment process and earn you a high salary.