Looking to get ahead in the IT job market? AWS is the answer!
Amazon Web Services (AWS) is a widely used cloud platform used to manage data, applications, and websites. Today, AWS has captured nearly one-third of the cloud computing market. Hence, due to the rising demand for cloud computing, companies are actively looking for AWS operators, designers, and architects. Moreover, AWS certified professionals don't only excel in handling AWS, but are also highly skilled in cloud computing in general. Hence, AWS-certified users are great assets to a company. 60% of cloud computing postings ask for skills related to AWS. AWS has been on the list of the most demanded skills since 2015. The importance of AWS is likely to keep increasing in the future and companies realize this. Hence, they are willing to shell out money to bring in adept AWS professionals (Graph 1).
Graph 1: Percentage of tech jobs taken by AWS professionals.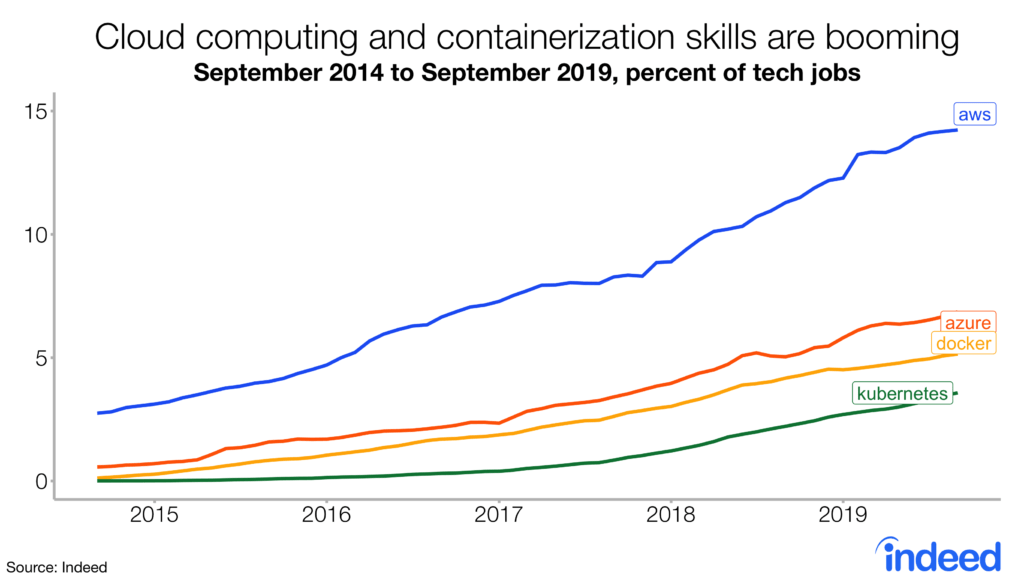 Fresher AWS professionals on average have a salary of INR 5-7 lakhs. After 6-14 years of field experience, the salary is likely to increase to up to INR 30 lakhs per annum. This is because some hands-on experience enables individuals to develop their AWS skills. Furthermore, AWS certification has 4 levels- foundational, associate, professional, and specialty. Following the completion of these 4 levels, the potential salary that could be earned
would essentially have no limits. Usually, to earn a salary of 30 lakhs per annum, significant experience is required. Companies, as a rule of thumb, look for more than 10 years of experience. However, the salary also depends on the importance of the AWS professional to the company. Some companies may value an AWS professional more than others and hence, would be willing to pay a higher salary even for a lower experience.
A 30 lakhs per annum is definitely rewarding but AWS certification requires in-depth training and practice. Ethnus Codemithra provides both these features. Codemithra has been a pioneer in IT training since 2007. It has helped more than 50,000 students with their placements since its inception. It not only provides comprehensive training but also oversees each student's hiring process.
The Ethnus Codemithra AWS Architecting course helps in gaining hands-on experience with using AWS. Candidates also get access to a plethora of AWS assessments and course material. Live training sessions ensure that each student developed a clear understanding of AWS. Upon completion of the course, the student is also provided a certificate of completion, which is valuable for job prospects. Looking to enter a highly rewarding AWS career? Ethnus Codemithra is the right destination for you!
For the 1st time in India Ethnus Codemithra providing AWS Architecting Online Course with NASSCOM future skill certification and 100% Placement Opportunity.