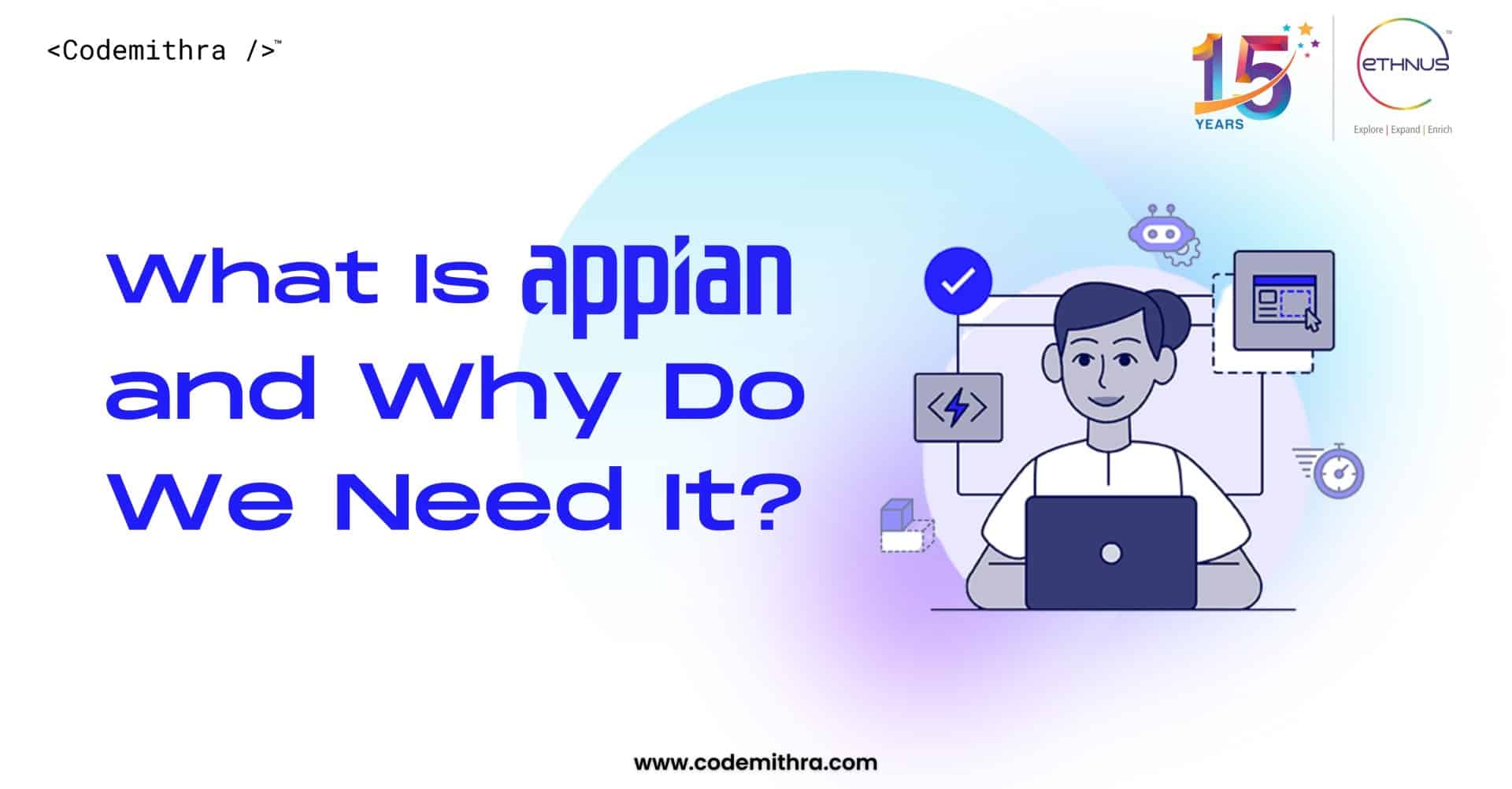 Introduction:
Appian is a tool for creating Business Process Management applications, developing business-related applications, and simplifying complicated work routines. There are numerous competitive tools for Appian BPM, like PEGA BPM and IBM BPM.
Appian was just an idea before it became a business. Not about a particular good or market, but rather about the kind of culture that can support innovation and value. The foundation of Appian was the conviction that gifted and driven individuals could achieve extraordinary results if given the freedom and liberty to do so.
Appian offers a low-code automation platform that helps you quickly create apps and workflows. We integrate people, technologies, and data into a unified process to make the most of your resources and significantly enhance business outcomes.
Appian is the sole recognized global leader in various enterprise technology markets, including low-code application development, Digital Process Automation (DPA), Intelligent Business Process Management Systems (iBPMS), and Dynamic Case Management (DCM).
The Need for Appian
Automation of Business Processes:
Many firms' employees spend most of their time performing ineffective manual tasks. This is not a productive use of their time, whether they are using paper-based documents, or spreadsheets to keep track of functions, or manually entering data into numerous platforms.
Your daily operations' time-consuming manual, paper-based parts can be automated by Appian using a cutting-edge, digital solution. This reduces the risks connected with manual data entry, and frees up staff time for higher-value tasks, resulting in significant cost savings.
Appian can automate fraud prevention procedures, in the financial services industry. It interfaces with back-office systems to reduce manual risks, enhance account holder protection, and pull, autofill, and transmit complete reports.
Development of Applications:
In the field of developing low-code applications, Appian is regarded as a pioneer. This is due to the platform's simplicity in converting a corporate process into an automated solution with a user-friendly interface. Low code simply means that it requires little to no coding to build, allowing business users to participate in developing solutions for their particular needs.
Higher Speed:
The desire for speed is incomparable in today's fast-paced world. If you slow down, you lose out. You require outcomes immediately. Your procedures must be changed, but the process cannot take long. With Appian, you can incorporate speed into the very fabric of your business. Appian accelerates development and makes it 20x faster than conventional development, so there will be no more abnormal delays, protracted waiting periods, or exhausting development efforts. With Appian, you can develop your app quickly and begin using it within weeks by merging pre-existing templates. This eliminates the need for lengthy coding. Additionally, Appian includes several available business accelerators and applications that can be used with your current system by just plugging them in.
Case Management:
Case management is a crucial component of business operations for firms that handle service requests, incident management, and various forms of investigation. Spreadsheets and other tools are frequently used in traditional case management.
By combining all necessary steps, duties, and data into one simple-to-use digital solution, an Appian deployment can significantly improve case management procedures. You may easily manage any kind of casework, integrate siloed data, automate challenging procedures, and handle exceptions.
To avoid manual data entry, decision-making, and review, businesses in the healthcare sector, for instance, utilize Appian to automate business logic for insurance requests, create applications for medical supplies, and digitize clinical trial intakes.
Simple to Use:
From its design environment to its user interface, Appian is made to be simple. Learning Appian takes days and requires much less technical knowledge than coding or programming platforms with steep learning curves. In addition to implying the need for fewer resources to develop and promote business applications, simplicity also facilitates user acceptance.
Unifies Data:
Unable to efficiently acquire, store, and transform data into actionable insights is one of the most frequent problems businesses encounter. Data can enable significant corporate transformation. While Appian allows you to select the location and method of data storage, it streamlines the data viewing experience. With the 360-degree real-time data view Appian Records offers, you can easily access pertinent information on any topic. You can use this to detect bottlenecks, gain actionable insights, and strive toward improvement.
Intelligence Facilitated:
Thanks to Appian, hyper-automation is a reality that goes beyond basic automation and unlocks value by using people, Artificial Intelligence (AI), systems, and robots. The platform allows no-code integration with popular media and native AI services. Appian enables intelligent automation while empowering workforces by integrating enterprise systems and data. By eliminating tedious, repetitive duties, you may free up time to concentrate on innovative ideas, creative problem-solving, and other tasks that boost productivity and reduce resource usage.
Easy Optimization:
At each level, businesses might find defects and inefficiencies in their systems. Appian makes it simple to change processes and rules to improve the application and streamline procedures. Every process interaction is recorded for in-depth analysis using a Business Activity Monitoring (BAM) analytics engine. Appian generates views, combining process performance and enterprise data.
The Ability to Use Clouds:
Nowadays, everything is on the cloud. Therefore, embracing it is the most practical way to speed up development. It promotes cooperation, enables flexibility, virtualizes infrastructure, delivers reliable backup, and streamlines development. Although most low-code systems have cloud functionality, you should consider security, dependability, and scalability before committing to the platform. Appian does well across the board. 
Appian exceeds the requirements of other vendors by providing the ease of switching between on-premise, hybrid, and public clouds. The cloud's high availability and 1-minute Recovery Point Objective (RPO) make it suitable for mission-critical enterprise applications. Its architecture is created to keep data loss low or nil, with an unsurpassed SLA uptime of 99.95 %.
Great Experience Across Various Channels:
In a multi-channel world, businesses must constantly stay in touch with their clients from any location and device. Web, mobile, email, chat, and voice all have seamless connectivity thanks to Appian. The expense and complexity involved in developing platform-specific apps are eliminated thanks to the integration of the multi-channel experience within Appian. Stop spending additional time and money developing apps for various platforms. With Appian, you only have to build it once to run on all platforms and mobile. It's straight out of the box and requires no further development work or money. 
Easy Design:
Consider that your HR department is searching for process automation. Even if the IT team is involved in creating a solution, more dynamic requirements for various forms or documents may call for technical support. The intuitive, user-friendly tools with low-code development platforms make it simple for even business users to participate and fulfill the requirements.
Thanks to Appian's integrated design environment and ready-made templates, you may spend more time developing the application you need. Appian makes it simple for even business users who aren't technically savvy to understand application design and development. It is because of Appian's comprehensive set of point-and-click tools and a visual drag-and-drop design interface. Rapid development, deployment, and scalability across operations are made possible by this.
What Is Low Code Development?
You can't rely on apps produced through significant coding if your IT team is overworked with a vast diversity of capabilities to be built. The development of low-code apps speeds up solutions and enables companies to react rapidly to market demands. Platforms that "allow quick delivery of business applications with minimal hand-coding and upfront investment in setup, training, and deployment" are what Forrester Research classifies as low-code platforms.
With low code, you can develop apps quickly, even before a  competitor has done designing the framework. Low code, as the name implies, uses ready-made templates and drag-and-drop components, making it possible to swiftly put together an application and go from conception to launch in weeks instead of months.
Why Low Code?
Mobility:

By accelerating development with low code, you can build and deploy apps quickly and support the growth of your organization.

Reduced Cost

: When app development takes less time, fewer resources are required, lowering development and staffing costs while raising business value.

Conversion:

With digital transformation becoming increasingly common, low code development helps organizations become more adaptable to change by removing its complexity.

Increases Productivity:

Time has always been an obstacle to innovation. But low code development reduces tasks that once took months to complete to only a few days. As a result, you may anticipate a significant increase in total productivity.
There has been a continuous increase in the number of platforms for business process management, and low code development has gained traction. There are many options, including Pega, Salesforce, K2, and Appian. Some lack features, some are concerned with enhancing developer productivity, and some need custom connectors.
Appian is a pioneer in the minimal code market that enables businesses to create applications quickly and with high-impact solutions addressing their most complex challenges. After analyzing their strengths across several criteria, Appian was ranked first among 18 other low-code suppliers in Gartner's Magic Quadrant for Enterprise Low-Code Application Platforms 2019.
Conclusion:
Appian emerges as a favorite for a low code development platform because of its simplicity to create and use interfaces, out-of-the-box integration capability, and all the features to address dynamic business issues. Appian is a single, integrated low-code development platform with boundless potential that excels in various applications, including Case Management and Business Process Management.