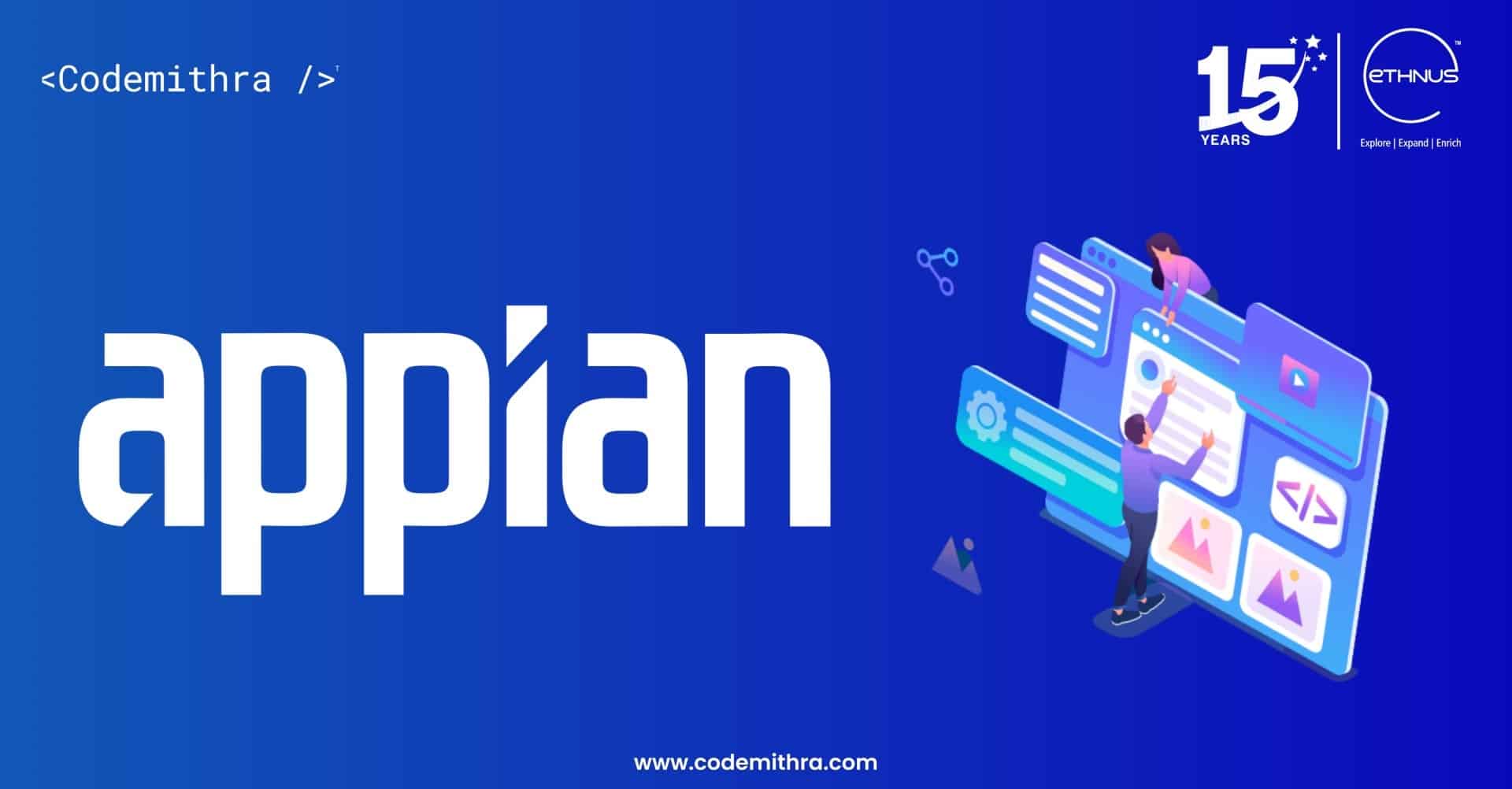 Introduction
Digital technologies are advancing quickly, and many firms must implement new solutions that will help them not to fall behind the market. They often take a patchwork text approach to digital transformation to improve customer experience, internal procedures, market prospects, or operational activities.
Using the latest digital technology to address essential business concerns seems sensible. Traditionally, corporate IT cycles have ebbs and flows, with the market stabilizing after a new solution. When organizations invest in technology, they know it will last several years.
The risk is that organizations end up with various tools that aren't integrated or interoperable. It causes duplication or overlapping functionality and gaps in needed capability. Digital transformation shouldn't be piecemeal.
The Digital Transformation Framework of Appian Online Training
Structures, pillars, and phases of digital transformation vary widely across the various frameworks in Appian. Plenty of frameworks integrate people, processes, and technology to help people see their goals and work together to achieve them. These models lack the directive support that many businesses rely on to carry out their vision, but they can be used to get an idea of how you want your makeover to appear.
Many app developers believe that low-code development is the future of app development or is an essential alternative to hand-coding. Businesses are also using low-code software solutions.
Is low code the best? If so, how do you go about finding a suitable platform for yourself? What is the best way to search? Take a look at Appian's low-code business development platform.
Pros of Low-Code in the Apian Online Training
Low-code app development uses block-based programming yet allows hand-coding. It creates various easy-to-use functionalities. It offers businesses benefits such as:
Faster app development than hand-coding

Lower apps and employee costs

User-friendly

Fewer errors, easier debugging

Multiplies app production

Cheaper, easier app maintenance.

Versatility to produce anything manually coded
Must Know Appian Facts
Appian, an American public entity, is a pioneer of low-code platforms. Do you know that Appian is a leader in both minimal code and automation, according to Gartner's annual ranking for 2020?
Appian's business process and workflow management market is estimated to reach $55.35 billion by 2028, rising 30.6% CAGR from 2021.
It is possible to develop applications and automate app development processes with the Appian automation platform. This is because it combines all the essential components into a single platform. It includes effective management and record-keeping capabilities, seamless integration with internal systems, highly effective workflow management mechanisms (BPM engine), and business rules engines that enable the automation of even the most intricate workflows.
Using the platform, humans, robots, and software may work together to accomplish tasks quickly and efficiently. This can be done while tracking and controlling in real-time to provide a current status report. As a result, low code can accelerate the application's development by 20 times and reach complete deployment in weeks rather than months.
Appian simplifies digital transformation. Learning Appian takes days and requires less technical knowledge than other platforms. Appian online training courses help you learn Appian's basic concepts and become a skilled developer.
Appian Low-Code Platform's Execution Strategy
Discover

: Rather than relying on manual methods prone to error, use technology to establish where there is room for improvement within your processes. This could include removing bottlenecks or reducing the amount of duplicated work. The process mining technique can assist you in identifying areas of inefficiency, allowing you to address such areas more effectively.
Design:

Create processes that maximize the skills of your employees so that you can be sure that each assignment assigned to the employee is the most suitable for the task. Appian's user-friendly process modeling features make it simpler to create workflows at their maximum productivity level.

Automate:

Put technology that automates tasks to use on the activities in which they will have the most significant impact. Not having a coordinated strategy can lead to overlap, gaps, and interoperability problems in digital transformation. However, if you orchestrate your people, processes, and technologies, you can solve these problems and avoid them altogether.
Top Factors of Appian Workflow
Developers can develop a case-centric and process-centric applications by fostering intelligent business processes. The digital business era has necessitated the adjustment of many operations. Listed below are some of the top factors of the Appian workflow.
An easy-to-use, code-free system is available on Appian. Coding challenges individuals. It's challenging to understand and difficult to understand. It reduces the amount of work needed and allows for greater flexibility.

Examples of solutions are readily available in the Appian community. It guides you through the Business Project Management world with simple language and step-by-step instructions. It eliminates the need for exhaustive tests.

Appian BPM workflow's social collaboration is crucial in confirming its suitability for various use cases. Appian's unique selling point is its social centricity, which fosters creativity, discovery, and improved communication among its users, clients, and business partners.

Appian's workflow's key aspect is its user-friendliness. For the BPM software, the Appian workflow is one of the best. It is a commendable and tempting feature that delivers a higher level of user satisfaction within a shorter period and with precision.

The production deployment of the public cloud features Appian BPM in a prominent position. It eventually develops into a comprehensive cloud platform that can support the upkeep of hybrid processes, cloud environments, and business results.

As a consequence of this, the Appian process includes a high-performance database supply. This supplier makes it possible to conduct sophisticated on-demand analytics or predictive modeling and to achieve dynamic strategic performance.

The most important aspect of the Appian workflow is its out-of-the-box integration capabilities. This feature is exclusive to Appian, and no other business process management software offers it, nor does it do it as well.
When studying the elements above, you'll get a clearer picture of Appian workflow's most essential and intriguing aspects.
The Best Features of Appian
As a business process management tool, Appian can streamline workflows and improve project management, among other things. Large corporations can gain efficiency by automating internal processes when working on development projects.

It's an easy-to-understand layout—drag-and-drop features, reusable components, and data accessibility help to speed up app development.

It's an excellent learning opportunity. Updated interfaces can improve employee experience, adoption, and organizational change.

Maintain control of the process while quickly collaborating with people, robots, and technology.

The applications adapt quickly according to the needs of the changing market, operational requirements, and design specifications.

In terms of development, it's relatively simple and the most secure, reliable, and scalable cloud platform for commercial data storage.
Appian first pioneered low-code software development because of the company's opinion that businesses54 require a more direct way to create great software. It is possible to provide current apps 20 times faster with 20 % fewer resources by utilizing the Low-Code Automation Platform (LCAP).
Substantial Advantages of Appian Online Training:
Collaboration:

When it comes to business process management, it's not a single-way street. Appian BPM solutions are incredibly collaborative. Customers can get on-demand solutions by integrating them with highly responsive software applications. Appian Cloud BPM replicates all of the software's strategies on a cloud-hosted server. Customers are not bothered by the type of business management they use as long as they can access their data and monitor their processes from any location.

Integration: Unlike Nintex Workflow, Appian Business Process Management provides enterprise-level solutions that integrate task automation and data management. Nintex workflow requires tools such as PowerPoint and Office365 to produce the best results. Appian BPM integrates only with the datasheets requested by the client.
Features:

Nintex Workflow's best features are automation, the creation of process-friendly standards, Nintex interfaces, and mobility. Appian BPM includes many features, such as BPMN solutions, business rules, a native repository of processes, event processing in complex cases, interface designs, out-of-the-box integration, record maintenance, real-time management tools, social collaboration, skill-based routing, and process extending. Appian BPM has a wide range of capabilities.

Cost-Effective:

Appian process management is generally more expensive than other BPM tools, and Appian BPM offers various functionalities and cost-effective solutions. The client can achieve success in a short period and at a lower cost.

High Profitability and Agility:

A higher revenue from less investment is the primary focus of any organization. Payment is one of the observable advantages of BPM. BPM software like Appian is developed to help firms retain more income in the shortest time possible. Through Agile processes and tools, Appian BPM aids a company in speeding up responsiveness and innovation.
Conclusion
Low-code apps speed up market time and enterprise deployments. The results show that the low code speeds up marketing and uses fewer resources. Appian's low-code platform clients are fast, productive, and transformative.
Appian is a central process, data, and application hub where organizations may mix new solutions and distribute information. Your warehouse manager can examine sales order data on Appian instead of a CRM. By setting policies, user roles, and workflows in the platform, best practices can be enforced. Appian is a hub for numerous technology initiatives, so you can administer your digital transformation framework within the forum, increasing transparency and control.