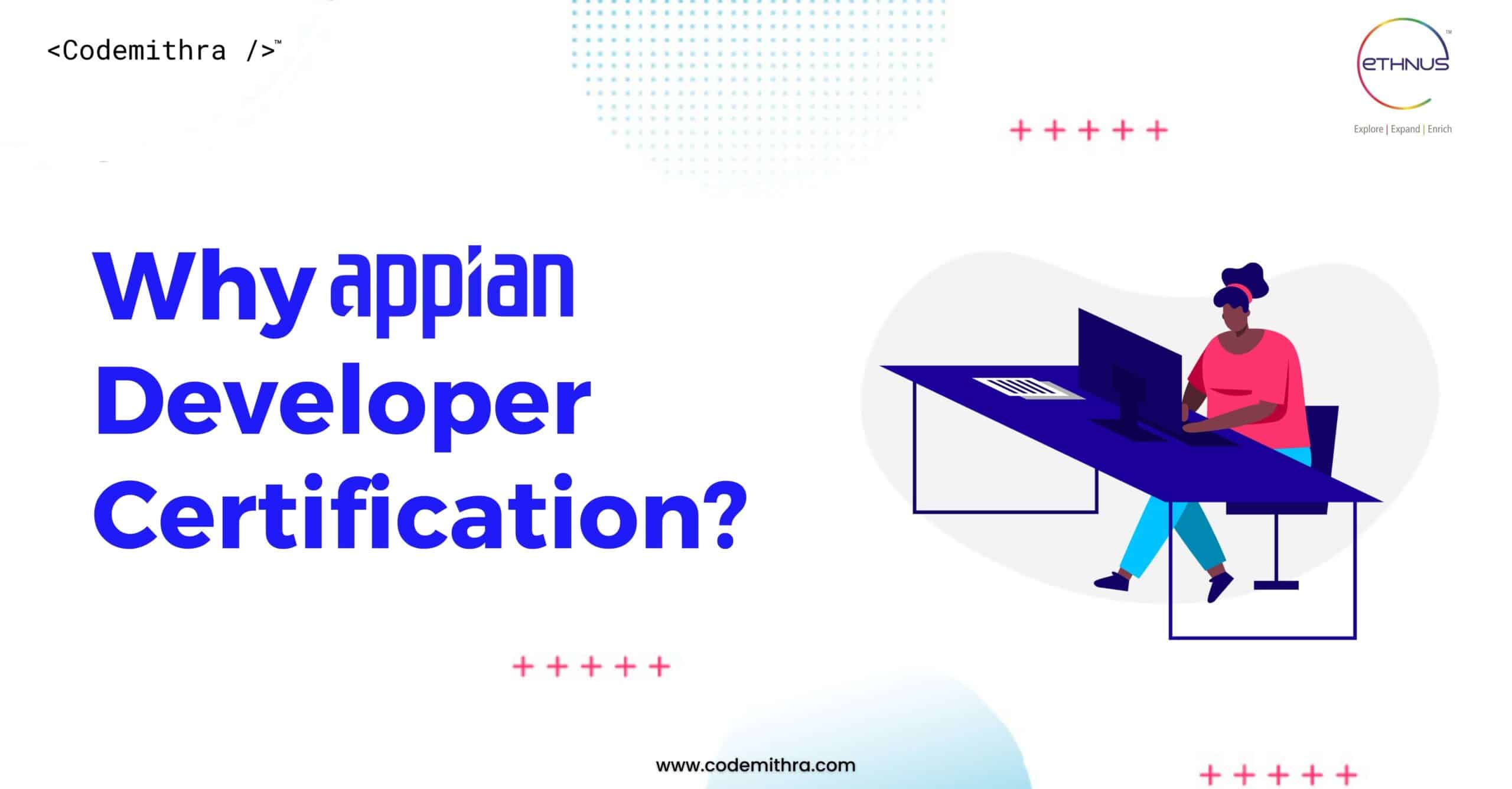 Introduction
In today's job market, the Appian Developer Certification stands out as a crucial achievement, paving the way for career growth. The surge in demand for skilled Appian developers is particularly evident in Bangalore, the tech capital of India.
Welcome to our informative guide focused on the Appian Developer Certification Course in Bangalore. This blog unravels the course's insights, its relevance in the city's thriving tech scene, and its potential to shape your career. As Bangalore's tech industry flourishes, mastering Appian could be your ticket to success.
Join us on this journey to explore the intricacies of the certification, its benefits, and the expertise it offers. This guide is your compass, navigating the dynamic landscape of Appian development. Step into the world of opportunities that the Appian Developer Certification in Bangalore can unlock, and take that leap towards a brighter future.
Why Appian Developer Certification?
Earning an Appian Developer Certification yields a range of advantages, transforming your career prospects and skill set:
Expanded Skill Set:

Deepen your understanding of Appian's tools and features, enhancing your value to organizations.
Job Opportunities:

Stand out in the competitive job market with a coveted certification, as the demand for skilled Appian developers continues to surge.
Career Advancement:

Showcase your commitment to growth, opening doors to promotions and advanced roles that require Appian expertise.
Industry Acknowledgment:

Gain industry-wide recognition for your proficiency, giving you an edge in job applications and career progression.
Credibility:

Demonstrate your excellence through a standardized assessment, establishing your credibility in the eyes of employers.
Networking:

Join a global community of certified professionals, enabling valuable connections, collaborations, and insights.
Versatility:

Master a diverse skill set, positioning yourself to tackle various projects and roles within the Appian ecosystem.
Elevate your career with an Appian Developer Certification, reaping benefits that resonate both locally and on the global stage.
Why Choose the Appian Developer Course at Ethnus Codemithra?
Embark on a transformative journey with our Appian Developer Course at Ethnus Codemithra, where excellence meets innovation. Discover why this course stands out:
World-Class Instructors: Learn from industry experts who provide in-depth insights and guidance, ensuring a comprehensive understanding of Appian development.
Instant Doubt Clearing:

Enjoy real-time doubt resolution, ensuring you stay on track and grasp concepts effectively.

Access to Course Content on CLAP: Benefit from our exclusive digital platform, CLAP, where course materials are accessible anytime, anywhere, for seamless learning.
Live Sessions for Courses:

Engage in live mentoring sessions led by experts, providing a dynamic learning experience.
Expert-Led Mentoring Sessions:

Receive personalized guidance to enhance your skills, and gain valuable insights from seasoned professionals.
Quizzes and Assignments:

Reinforce your learning through quizzes and assignments, gauging your progress and knowledge retention.
Work on Projects:

Apply your newfound knowledge to real-world projects, gaining hands-on experience and honing practical skills.
Step-by-Step Walkthroughs:

Navigate through projects with ease using our step-by-step instructions, facilitating project completion.
Lifelong Access:

Enjoy lifetime access to course materials, enabling continuous learning and staying up-to-date with industry trends.
Industry-Recognized Certification:

Receive a prestigious Certificate of Course Completion, validating your skills and expertise in Appian development.
Appian Developer Certification Exam:

Benefit from a complimentary voucher for the Appian Developer Certification Exam, enhancing your credentials.
Placement Assistance:

Propel your career forward with our placement assistance, including a Resume Building Workshop and practice interviews.
Course Curriculum Highlights:
– Application and Object Design
– Process Modeling
– Administration
– Best Practices
– Applied Development
Elevate your skills, career, and prospects through the Appian Developer Course at Ethnus Codemithra. 
Overview of the Appian Developer Certification Course
Course Duration: The course spans 140 hours, ensuring in-depth coverage of the curriculum while accommodating your schedule.
Prerequisites and Eligibility Criteria:
Technical Background: A foundational understanding of programming concepts and software development is recommended.
Familiarity with Appian: While not mandatory, prior exposure to the Appian platform can be beneficial.
Course Curriculum and Key Topics:
Our course covers a range of crucial topics, empowering you to become a proficient Appian developer. Key areas include:
Application and Object Design:

Master the art of designing robust applications and objects to meet diverse business needs.

Process Modeling:

Learn to create efficient workflows that streamline operations and enhance productivity.

Administration:

Gain insights into managing Appian environments, user access, and system configurations.

Best Practices:

Discover industry-proven techniques for optimizing Appian solutions and ensuring scalability.

Applied Development:

Translate theory into practice by building real-world projects, honing your skills through hands-on experience.
Hands-On Training and Practical Exercises:
Our course places a strong emphasis on practical learning, ensuring you're well-prepared to tackle real-world challenges. You'll:
Work on Projects: Apply your knowledge to develop projects that simulate real scenarios, cultivating problem-solving skills.

Guided Exercises: Benefit from step-by-step guidance through exercises, enabling you to build your skills methodically.

Interactive Labs: Engage in interactive labs, where you can experiment, learn from mistakes, and refine your abilities.

Real-World Simulations: Encounter real-world challenges that developers commonly face, allowing you to refine your troubleshooting skills.
By combining theoretical knowledge with practical application, our Appian Developer Certification Course in Bangalore empowers you to confidently create, optimize, and manage Appian solutions. Join us on this journey to elevate your expertise and seize the boundless opportunities in the realm of Appian development.
Other Training Institute in Bangalore
Infosystems Academy: With a focus on cutting-edge technologies, Infosystems Academy offers a comprehensive Appian Developer Certification Course in Bangalore. Their experienced instructors guide you through the intricacies of Appian development, ensuring you're well-equipped to excel in the field.
TechMinds Learning Services:

TechMinds Learning Services is known for its industry-aligned training programs. Their Appian Developer Certification Course in Bangalore provides hands-on experience and practical skills, preparing you for the dynamic world of Appian development.
Edureka:

Edureka is a trusted name in IT training. Their Appian Developer Certification Course in Bangalore offers a blend of theoretical knowledge and practical application. With live projects and expert guidance, Edureka ensures you're job-ready upon completion.
NIIT:

NIIT's Appian Developer Certification Course in Bangalore focuses on skill enhancement and career growth. Their comprehensive curriculum covers various aspects of Appian development, from design to implementation, making you proficient in this sought-after technology.
Simplilearn:

Simplilearn is renowned for its online and blended learning programs. Their Appian Developer Certification Course in Bangalore combines flexibility with expertise, delivering a curriculum designed to nurture your Appian skills and boost your career prospects.
Besant Technologies:

Besant Technologies offers practical-oriented training, and their Appian Developer Certification Course in Bangalore is no exception. With a focus on hands-on projects and industry-relevant skills, you'll be well-prepared to tackle real-world Appian challenges.
Peopleclick Techno Solutions:

Peopleclick Techno Solutions' Appian Developer Certification Course in Bangalore emphasizes both theory and practical implementation. Their comprehensive training equips you to become a proficient Appian developer in demand.
These institutes are known for their commitment to excellence and industry-relevant training. When choosing an institute, consider factors such as the course curriculum, practical exposure, instructor expertise, and placement assistance to make an informed decision that aligns with your career goals.
Job Opportunities and Salary for Certified Appian Developers in Bangalore:
Certified Appian developers in Bangalore find themselves amidst a bustling job market, where the demand for their skills is soaring. The convergence of technology and innovation has led to a plethora of job opportunities across various industries, making Bangalore a hotspot for Appian enthusiasts.
Growing Demand Across Industries:
The demand for Appian developers transcends industry boundaries. Banking, finance, healthcare, logistics, e-commerce, and more are embracing Appian's automation capabilities to optimize processes, enhance customer experiences, and drive efficiency. This widespread adoption means certified Appian developers have a diverse range of industries to explore for rewarding career prospects.
Average Salary Range:
In Bangalore, the average salary range for certified Appian developers varies based on experience, skill set, and the company's size. Entry-level developers can expect to earn a competitive salary, while mid-level and experienced professionals command higher compensation. On average, salaries for Appian developers in Bangalore range from salary 4 LPA to 6 LPA annually.
Companies and Sectors Hiring Appian Developers:
Several prominent companies and sectors in Bangalore are actively hiring certified Appian developers. Some notable sectors include:
IT Services Companies: Major IT services and consulting firms, both global giants and local startups, seek Appian developers to meet client demands and enhance their operations.
Financial Services: Banking, financial institutions, and fintech companies harness Appian's power to streamline processes and customer interactions, leading to a high demand for skilled developers.
Healthcare: Healthcare providers and technology companies are utilizing Appian to digitize patient care processes, creating opportunities for developers to contribute to this transformation.
E-commerce: E-commerce platforms are embracing automation to enhance supply chain management, customer support, and order fulfillment, driving the need for Appian developers.
Logistics and Supply Chain: Appian's workflow automation is proving invaluable in optimizing logistics and supply chain operations, leading logistics companies to actively recruit Appian developers.
Manufacturing: Manufacturing firms leverage Appian for process improvement, quality control, and supply chain efficiency, creating a demand for skilled developers in this sector.
The convergence of Bangalore's thriving tech ecosystem and the widespread adoption of Appian's solutions result in a wealth of career opportunities for certified Appian developers. With competitive salaries, diverse industry options, and the chance to shape the future of technology, a career as an Appian developer in Bangalore is brimming with potential.
Conclusion
Seize the opportunity to excel in the dynamic world of Appian development through the Appian Developer Certification Course in Bangalore. Elevate your career prospects and job opportunities across industries in this tech-driven city.
Stay at the forefront of the ever-evolving IT landscape by enrolling in Ethnus Codemithra's course. Gain invaluable insights from top instructors, engage in live sessions, and master Appian through hands-on projects.
Invest in your future today – join Ethnus Codemithra's Appian Developer Course and pave your way to a successful and fulfilling IT career. Enroll now and take the first step towards a brighter tomorrow.
FAQs
What is the Appian Developer Certification Course in Bangalore?
The Appian Developer Certification Course in Bangalore is a comprehensive program that equips you with the skills needed to excel in Appian development, a sought-after field in the tech industry.
Who can benefit from this course?
This course is designed for individuals with a technical background who want to specialize in Appian development. Whether you're a newcomer to the tech world or an experienced developer looking to diversify your skill set, this course is for you.
What are the career prospects after completing this course?
After completing the course, you'll be well-prepared to pursue various roles in Appian development. The growing demand for skilled Appian developers in industries like banking, healthcare, and e-commerce presents abundant job opportunities.
How does hands-on training contribute to the course?
Hands-on training is a core component of the course. It allows you to apply theoretical knowledge to real-world projects, helping you build practical skills and confidence in tackling Appian development challenges.
Why choose Ethnus Codemithra for this course?
Ethnus Codemithra offers world-class instructors, live sessions, and access to industry-relevant content through CLAP. With an emphasis on hands-on projects and expert-led mentoring, we ensure you're well-prepared for a successful career in Appian development.